Chart of the Day: Why Aren't More Mid-Market Companies Hiring?
Last week, my colleague Derek Thompson listed 8 possible reasons why companies aren't hiring. But to know which of these reasons are most important, you would have to actually ask companies. The National Federation of Independent Businesses does that each month. It asks small businesses about their biggest problem and has been consistently finding that poor sales are their most significant obstacle to growth. Second and third are taxes and regulation. But what if you were to expand the size of companies a bit to mid-market firms?
Deloitte conducted a survey of these firms earlier this year as part of a report titled "Mid-market perspectives: 2011 report on America's economic engine" (.pdf). The mid-market segment consists of firms with annual revenues between $50 million and $1 billion. The segment is responsible for employing tens of millions of people, largely in the U.S. -- 53% have no workforce outside the country and just 18% of theses companies have more than 25% of their employees based abroad.
Here are the result for biggest obstacles to growth for mid-market companies, according to the 527 Deloitte surveyed: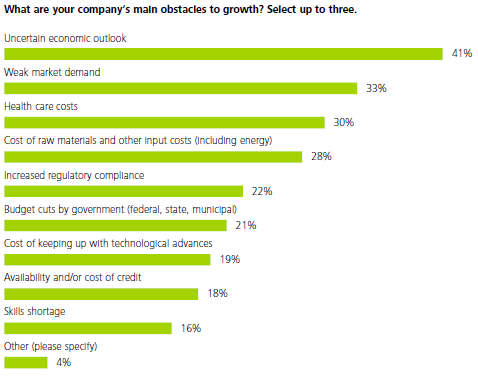 The first two factors are clearly economic. In a sense, the bad economy is keeping itself down. Firms aren't sure they see sunnier days just ahead and demand remains weak. As a result, adding workers for growth is a hard sell.
But interestingly, two Republican favorites come in third and fifth: the firms also say that health care cost and regulation are significant obstacles. Yet nearly as many companies surveyed say that government budget cuts are an obstacle as those that named regulation. So Democrats have a favorite cause -- preserving spending levels -- in the mix too. Of course, the government can help in all three areas. But the impact of such changes might be minimal: none of the three would directly impact the two biggest obstacles.
As far as additional training is concerned, it might not be all that important after all -- at least not to mid-market firms. Just 16% cited skills shortage as a constraint to growth. These firms are generally able to find workers with the necessary skills to perform their job well. So additional training for out-of-work Americans isn't likely to result in a boost to employment if this segment of the market is any indication. At this time, it appears to generally find the skills its firms need to fill their job openings within the current pool of workers.