Chart of the Day: Netflix's Stock Is Down 52% From Its July Peak
These days, most companies are sensible enough not to announce a new strategy that shakes up its customers and investors so much that its stock plummets by 50%. Unfortunately for Netflix, it appears to have made such a mistake in July when it announced its new pricing strategy. In this case, the company's stock chart pretty much tells the story.
This is just ugly (the blue line shows the price at market close on Monday):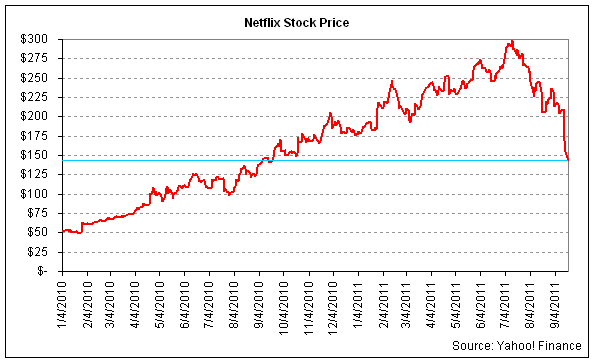 The peak you see was on July 13th, when the stock price hit $298.73. That was the day its pricing strategy was announced. As the market began to see the customer dismay the new pricing plan had triggered, investors began to slowly quickly back away from the company. Its stock fell for the next month or so and then vacillated in the low- to mid-$200s for the month that followed.
Then investors learned that Netflix's customers' complaining wasn't just noise: many were canceling their subscriptions. Last Thursday, Netflix revised its third quarter subscriber estimate down by one million. The day before, its stock price closed at $208.71. It had dropped to $169.25 by the end of day on Thursday.
It continued to decline on Friday. Now today, we learn that Netflix will split in two: it will separate its streaming and DVD-by-mail businesses. At first, the market seemed vaguely hopeful about the plan, with its stock showing a modest gain in early trading. But as the day wore on, the market must have realized that the strategy raises some serious questions about the company's future. As Monday ended, its stock price closed at $143.75.
In just over two months, Netflix has seen it stock price decline by 52%. That's a devastating drop. And this wasn't investors reacting to the economy, a supply chain problem, competitor success, or any exogenous shock: it was the company's own doing.
Indeed, Netflix's latest decision to split into two was more likely a reaction to its falling stock price than a response to angry customers -- you can see the steep drop it took after it announced subscriber losses on Thursday. If the decision to split its company in two was really a reaction to its customer dismay, then it would have lumped in this news with its subscriber decline warning to investors on Thursday. Instead, we learned of the split on Monday, because the company must have felt that it needed to do some damage control as its stock price continued to slide. Considering that it was down another 7.5% on the day, its latest strategic announcement may have done even more harm.