Chart of the Day: Housing Inventory Lower, But Still Very High
Although it dipped in early 2011, it has remained fairly steady throughout the year
Why are home prices struggling to stabilize? The housing market still has far too much supply and not enough demand. With so many homes to choose from, the few buyers out there can negotiate to their advantage. Or as many put it: it's a buyer's market. And it's been that way since the housing bubble burst. To get an idea of the supply side of the equation, let's look at total unsold housing inventory.
To get the full picture, we should consider more than just the existing and new homes for sale -- we also need the "shadow" inventory. Those are homes where borrowers are seriously delinquent or facing foreclosure, but they aren't yet for sale. This latter data is provided by housing market analytics firm CoreLogic, which released its quarterly shadow inventory report (.pdf) on Tuesday. Existing home data is provided by the National Association of Realtors, while the Census Bureau tabulates the numbers for new homes.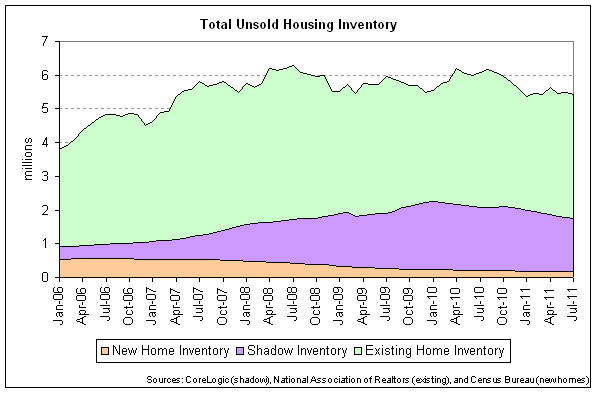 Through July (where CoreLogic's data stops), the sum of these three types of inventory accounts for 5.4 million homes. You can see from the chart that inventory has actually been lower this year than it was throughout 2010. Last year it averaged 5.9 million. But it dipped to 5.3 million in January and hasn't made any downward progress since.
Combining new and existing home sales for July, this level of inventory amounts to about 13 months of supply. In other words, if no other homes went on the market for the next 13 months and home buying remained constant at its July level, that's how long it would take to sell all of the current supply. Of course, additional homes will come to market over this period of time, which explains why supply has so much trouble declining. At the start of 2006, as the housing bubble was still inflating, total inventory was just 3.8 million.
The good news is that both new and shadow inventories have been declining recently. The number of new homes for sale has been falling since the bubble popped. In July, shadow inventory was near its two-year low. This latter statistic is particularly important, as it indicates that fewer distressed properties will be added to for-sale inventory in future months. Existing home inventory isn't on as clear a downward trajectory, however.