Chart of the Day: GDP Revised Up to 1.3% Because Americans Had More Fun
This morning, the U.S. got some modest good news: the nation's second quarter growth was a little less anemic than we thought. The economy grew at an annualized rate of 1.3%. That's certainly not brisk, but it's a little better than the 1.0% previously estimated. Since the revision was relatively small, no single component of GDP was significantly over- or underestimated. But of all the positive bumps in its subcomponents, the biggest gainer was consumer spending on recreational services. Put another way, Americans had more fun in the second quarter than economists thought.
Consumers spent $351 billion on an annualized basis on recreational services in the second quarter, according to the GDP revision released this morning by the Bureau of Economic Analysis. This was $5.2 billion more than the last estimate accounted for. It made up nearly half of the revision's increase in GDP.
Anyone squinting to see something optimistic about the economy in the second quarter might point to this metric: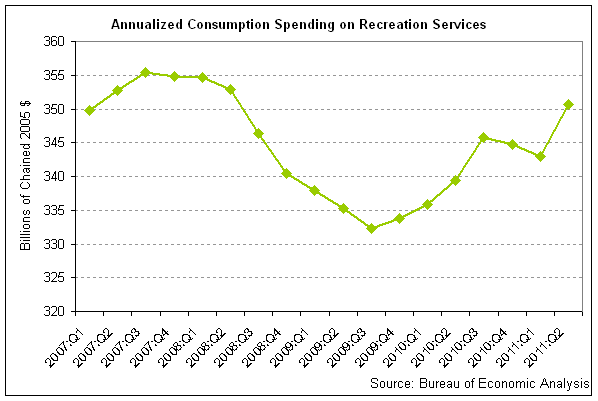 You can see from the chart that spending on recreational services jumped in Q2: it was $7.6 billion higher than in the first quarter. That's the biggest increase we've seen since it began to decline during the recession. At $350.6 billion, it was also the highest since the third quarter of 2008. You can see that it's increased quite significantly since it bottomed out in the third quarter of 2009 at just $332.3 billion.
When the economy is bad, recreation is an easy expense to cut. And recreational services are a particularly good non-necessity to ignore: at least when buying recreational goods, they can often be used for a longer period of time. The enjoyment you get out of a service is fleeting.
So as Americans spend more on recreational services, this could tell us a little about attitudes towards spending. In the second quarter, despite the economy's general weakness, Americans still spent more money to have fun.