Better Than Stocks, Better Than Gold: The Taxi Medallion as Inflation Hedge
Data: Federal Housing Finance Agency, New York City Taxi and Limousine Commission
Nervous about the Dow? Looking for a better hedge against inflation than gold? How about a New York City taxi cab medallion?

Seriously. Since 1980s, the price of a metallic NYC taxi license has grown four-times faster than the average home or a brick of gold, according to Bloomberg Businessweek.

Each cab requires a medallion, and the supply has been so strictly controlled that, as the city population and economy grew over the last three decades, the current price has bloomed from about $140,000 in 1980 to $678,000 today.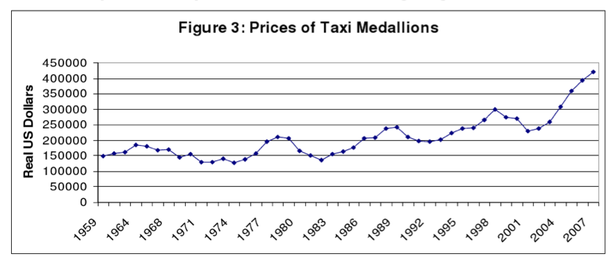 The purpose of medallions, like most licenses, is to control the total supply of cabs on the street. The decades-long cap on medallions has been the subject of
many economic papers
. Perhaps the most famous by Edward Rogoff stated that fare increases "drive medallion prices higher without improving the earnings and quality of drivers."
Since 1979, medallion owners have been allowed to lease licenses out at a fixed rate to drivers. In the economic paper
Why has the Price of Taxi Medallions Increased So Dramatically?
, Dan Cumming explained the burst in taxi medallions with simple supply-demand economics. A limited supply of licenses controlled supply. Demand for transportation throughout New York continued to rise. The result was the quadrupling of tax medallion prices in three decades.
Some pols have tried to bring medallions to Washington, D.C. Matt Yglesias
blasted
the effort as a naked attempt to limit competition so that incumbent cab drivers can make more mone. "I'd like to see a medallion system for new bloggers implemented for the same reason," he wrote. "But it's still a terrible idea."