Why Did the Stock Market Tank After the Debt Deal?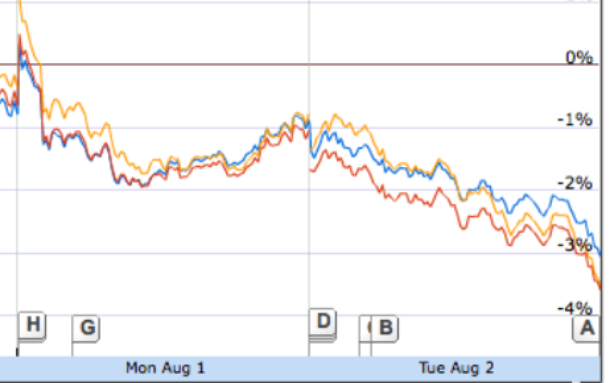 Google Finance
Brave new "economic realities"...
As the Dow Jones Industrial Average plunged 266 points and the Standard & Poor's 500-stock index sunk to a 2011 low Tuesday, financial journalists raced to find Wall Street analysts willing to explain the dramatic tumble, which comes amid positive news that the U.S. government would avert a default following President Obama's signage of a debt deal. Of course, the plunge also coincided with the gloomy news from across the pond in Europe where money markets began to freeze as the debt crisis in Italy and Spain escalated. It also coincided with a dreary Commerce Department report showing that consumer spending fell 0.2 percent in June, a first since mid-2009...

Uri Landesman, the president of Platinum Partners, speaking with The New York Times: [He] said that investors were discounting the debt deal and, with such poor economic data, starting to question the viability of corporate earnings for rest of the year. "Economic data has been a disaster," he said. "It's clunker after clunker. If the economy is desultory, how are the earnings going to excel?"

Hank Smith, chief investment officer at Haverford Trust Co, speaking to Bloomberg: "We have a stubbornly slow economy. The economy is stuck in a very slow growth mode, which means that it's more susceptible to any external shocks."

Fred Dickson, chief market strategist at The Davidson Cos., speaking to Reuters: "Investors have made the shift from Washington to what I'm calling economic realities"
Read the full story at The Atlantic Wire.