What the Debt 'Trigger' Says About Washington's Crisis Addiction
Want more evidence that Washington is addicted to the threat of self-immolation? Check out the clincher in the debt ceiling compromise, which creates another looming crisis.

The key to the debt ceiling compromise, the reason we're standing on the verge of a deal rather than the verge of default, is, in the grandest of Washington traditions, a plan to trigger another crisis to force another plan.
Before this weekend, congressional leaders had already agreed that a deal would have to cut about $1 trillion immediately. But that wasn't enough to extend the debt ceiling until 2013 (what the White House wanted) with dollar-for-dollar cuts in government (what Republicans wanted). So all sides agreed to second round of deficit reduction scheduled for the end of this year.
At this point, one of two things will happen. Either a special commission of electeds will reach a compromise to reduce the deficit by at least $1.5 trillion, or else their failure to reach a compromise will "trigger" automatic cuts of $1.2 trillion.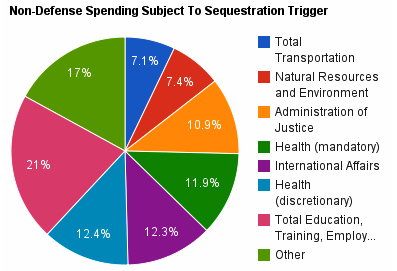 This trigger is supposed to make today's
"Satan sandwich"
look like prosciutto and fig on ciabatta by comparison. It includes $1.2 trillion equally divided between the Pentagon and non-defense spending. Special programs to protect the old and poor, like Social Security, Medicaid, and income security spending, are exempt for cuts. Matt Yglesias
provides
the breakdown of the non-defense spending reductions to the right. Education and health spending faces about half the domestic cuts.
The bottom line is that if lawmakers can't agree on entitlement and tax reform, the punishment for Congress will be further cuts to domestic spending (which Democrats don't want) and even deeper dollar-for-dollar cuts to defense (which Republicans don't want). After holding U.S. credit hostage to force deficit reduction, we'll next hold domestic investments, the middle class and the Defense Department hostage to force reform to Medicare, Social Security, and taxes.
The trigger corresponds with the end of the Bush tax cut extension, whose expiration would shrink deficits by $4 trillion over ten years alone. The White House's fact sheet claims "these two events together will force balanced deficit reduction." I should say they should!
But this acknowledgment is saddest of all. It reveals a government that lurches from crisis to crisis, addicted to the threat of self-immolation, utterly incapable of passing a simple bill until it's finished bathing in gasoline and touched the match head to the striking surface. Call it Borderline Governance Disorder. We'll avoid default, thank God. But dumb, unyielding, and addicted to havoc is no way to go through a century.