The Most Powerful Women in New York Can't Be 'Listed'
The influence of NYC's most prominent females is on a steep upward curve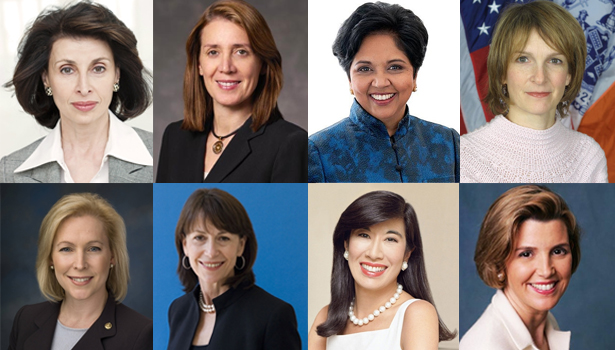 Crain's New York Business' top eight most powerful women in New York. Clockwise from the top left: Mary Anne Tighe, Ruth Porat, Indra Nooyi, Patricia Harris, Sallie Krawcheck, Andrea Jung, Katherine Farley, and Kirsten Gillibrand.
Power: Ability to do or act; capacity of doing or accomplishing something

--Random House Unabridged Dictionary
One of the irresistible media features, especially in magazines, is lists. Whether based on measurable accomplishments or the judgment of editors, being included is invariably a plus; being excluded or dropped is a downer. U.S News has turned its annual rankings of academic and medical institutions into a lucrative business, with a perennial controversy about the standards it uses. Forbes has its lists of the rich; Fortune keeps track of companies by size and stature. There is hardly a category these days that is not subject to ranking. Among those that come to mind are Time magazine's annual "Time 100," listing the most influential people in the world, which includes a grand banquet as a reward; Vanity Fair's "New Establishment" is made up primarily of leaders in finance, entertainment, and the media; Institutional Investor does financial analysts; New York Magazine rates doctors; and just about every local magazine updates restaurants. Newsweek has featured top high schools for a decade or so, and under its new management revamped the format to make it easier to understand. Whether the value of these rankings is based on empirical data or opinions tossed around editorial tables, their popularity and often their impact can be significant. The result of these assessments, intended or otherwise, is to bestow power on the chosen.
The reason for this prologue is a recent "special issue" of Crain's New York Business that featured "The 50 Most Powerful Women in New York." This was the periodical's first foray into the exercise since 2009, and it says: "This elite group of achievers lead multinational corporations and media enterprises, top tier law firms and major cultural institutions." At the pinnacle is Mary Ann Tighe, chief executive, New York tristate region, for the real estate firm CB Richard Ellis. Rounding out the top five are Ruth Porat, chief financial offer of Morgan Stanley; IndraNooyi, chairman and chief executive of PepsiCo.; Patricia Harris, first deputy mayor of New York City and chairman and chief executive of the Bloomberg Family Foundation; and Sallie Krawcheck, president of global wealth and investment management for Bank of America. Senator Kirsten Gillibrand, who was named to replace Hillary Clinton when she was appointed secretary of state and is now an acknowledged rising star among Democrats, ranks number eight; and at number ten is Christine Quinn, speaker of the New York City Council and a contender to be New York's next mayor.
The Crain's list includes thirteen newcomers, and some significant personalities are gone, including Ann Moore, chairman and CEO of Time Inc., and former Deloitte chairman Sharon Allen, who both have retired. The most spectacular downfall is that of Cathleen Black, who left a top job at Hearst last year for her singularly unsuccessful four-month stint as New York's chancellor of public schools.
The list was compiled by Crain's editors and reflects genuinely meaningful roles for a diverse cross-section of women whose influence in New York's business, media, finance, and cultural institutions is unquestionably on a steep upward curve. As I looked for the handful of women I know personally, the characteristics that seemed common to all was a combination of leadership skills, tenacity, entrepreneurial energy, and the ability to navigate the office politics (and in many cases fundraising) that take New Yorkers to the top.
The New York Times newly anointed executive editor Jill Abramson (#12) and Janet Robinson (#16), chief executive of the The New York Times Co., are perhaps the clearest examples of how many barriers have been overcome in the once-male-dominated media fields. Tina Brown (#22) has regrouped from the failure of Talk, writing a number one bestselling book about Princess Diana and finding a formidable financial backer for her website,The Daily Beast. Now, after the merger, she has taken on a redesign of Newsweek and is rolling out her signature strength, the high-low mix of "exclusives" and provocative commentary that produces buzz. Ellen Futter (#33), president of the American Museum of Natural History for the past 17 years, is an exceptional executive and has been a leader for decades. Named president of Barnard at 32, she has made the bustling museum into what Crain's correctly describes as "a world class research institution that grants Ph.D's." With an annual budget of $169 million, the museum consistently sets attendance records.
So what ultimately does this list mean? That all of these fifty New York women hold meaningful positions is in itself beyond dispute, and that is deserving of recognition. But the rankings, to be blunt, don't amount to much. Is a tristate New York real estate executive really more powerful or influential than Senator Gillibrand or the first woman executive editor of The New York Times? One of New York's most extraordinary women, who was not included in the list at all, is Wendy Kopp, founder and CEO of Teach for America, who perhaps more than any other person in the field has been a force for educational reform over the past 20 years by attracting tens-of-thousands of outstanding young college graduates to compete to teach in some of the country's most troubled schools, particularly those in New York. For every leader on Crain's list, I'm certain that there is an equally accomplished woman who did not make the cut.
So, congratulations to this group of our city's "most powerful women," and may they and the institutions they represent flourish under their leadership. But lists, for all the benefits of being on them, are essentially gimmicks, an entertaining way of keeping score in the continuing contest for visibility and "the ability to do or act" in New York's high-energy competitive culture.
Image Credits: Clockwise from the top left; CB RIchard Ellis, Morgan Stanley, Pepsico, NYC.gov, Bank of America, Avon Prodcuts, Tishman Speyer, US Senate.