Service and Sexual Harassment: Your Opinions, Please
How often do diners make unwanted advances? And how professional are professional servers? Let the debates begin.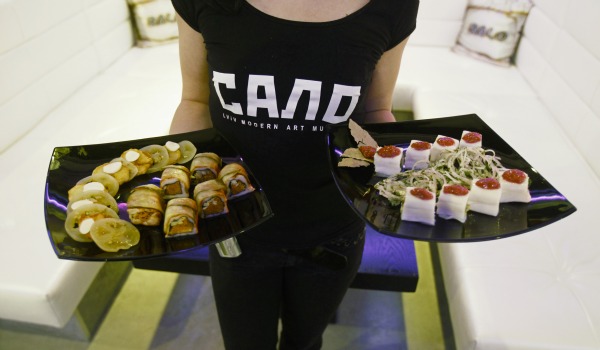 My friend and colleague Alan Richman recently published
an article
in
GQ
that, if it didn't set the food world on fire, set it on summer simmer. It started as a review of the super-hot Queens diner restaurant M.Wells, which had announced that it was closing and relocating in a rent dispute between the time the piece closed and appeared on newsstands (ah, the print cycle!).
Midway through, the article turns from an enthusiastic review to a painfully honest account of the author's having been accused by email of sexually harassing his server: The owner, in a correspondence about a planned interview, says:
It seems we couldn't make you happy, several servers heard you complain and ask for more attention. One of those servers, a female, received a hardy pat on the ass from you. Totally unacceptable in our world. I don't know what to think or how to proceed. But I must relay my worry.
The rest is Richman's reaction to the accusation, his speculation about why the owner would have made it, and a declaration of a critics' ethics, which include not commenting on or reacting to bad service, just seeing how the restaurant handles a typical evening—or as typical as an evening can be when a critic is recognized, which as he points out and I can painfully confirm never, ever, improves a dining experience.
I thought it was a brave and true summary of what critics try to do. Everybody thought something. (Jonathan Gold tweeted, "Is it just me, or is this basically the world's longest Yelp post?") Sam Sifton, typically smart and alert, opened a comments forum in the Diner's Journal section of the New York Times website. He was an early fan of the restaurant, had been first off the mark in announcing and mourning its closing, and went to a farewell meal that inspired me with visions of gluttony—the Rabelasian platters of oysters, caviar and roe of all kinds, smoked salmon and sturgeon, blinis, and brioche are still waking me up with seizures of envy.
I read every one of the seven pages of comments on the Times site, and while there were many views of that restaurant's service and service in New York, I wanted to hear from a server. So I'm really glad we have Katie Van Syckle's proud, thoughtful piece about being a server in New Orleans and New York, and how serving should be viewed as a profession but isn't—a theme that our own Nina and Tim Zagat have been championing.
Now I want your opinions. Servers, unite! Comment, please! What will make us better diners? You better servers? And: how often do customers make unwanted advances, hardy or hearty? Over to you (and diners too).
Image: Gleb Garanich/Reuters