Recovery on Steroids: How Texas Job Growth Got Huge
There are two things you'll read in every report on Texas Governor Rick Perry and his state's daunting jobs record. The first is that 40 percent of the jobs created since the recession ended came from Texas. Very impressive. The second is that Texas has the highest percentage of minimum-wage workers in the country. Less impressive.
But where did these jobs come from, and how does that compare to the rest of the country? With a big assist from Alan Berube at the Brookings Institution, these two graphs break down jobs won and lost in Texas versus the entire U.S. since 2007. The first compares percent change within industries. The second compares total jobs gained/lost by industry. (Click the graphs to make them bigger) Insights after the charts.
% Change by Industry
June 2007-June 2011

Jobs Added by Industry (thousands)
June 2007-June 2011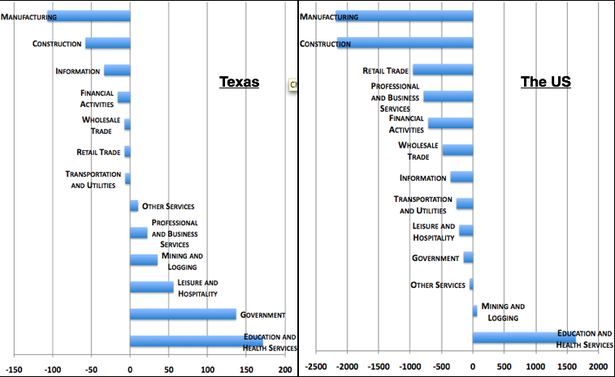 Three insights.
1) When you break it down, Texas' jobs picture looks like the rest of the country -- on steroids. Most of the jobs added in Texas since 2007 have come from two places: (1) Government and (2) Education & Health Services, which enjoy strong government support. The fastest growing sector was Mining & Logging. For the country at large, the story was very similar. Total government employment is about even with 2007, after rising for three years and falling for the last year. As in Texas, Mining & Logging and Education & Health Services led the nation in percent gains. As in Texas, Education & Health Services also led in total employment gains.
2) This suggests that much of Texas' job growth has been in response to population growth. Texas' fastest growing sectors are concentrated among primarily local-serving industries. (The exception is mining and logging, where Texas claims 30 percent of national employment.) That suggests that much of the job growth is a reaction to the growth in population. Since 1990, the state has grown at twice the national average. This raises a chicken-egg question/objection: Population growth creates jobs, but good jobs (and easy regulation/tax/zoning policies) encourage population growth. The causation goes both ways.
3) The exceptions to insight #2 suggest that Texas benefited from a smaller housing bubble/construction bust/financial sector blowup, but it suffers from a comparably weak information sector. From Berube: "If in general Texas out-performed national averages by about 7 percentage points, then the state relatively over-performed in construction and government, under-performed in manufacturing and information, where job loss was actually faster than national average."

______________
And here are larger images of the above charts:
Texas Jobs Percent Increase
Numbers in percentages
June '07-June '11
Total U.S. Jobs Percent Increase

Texas Jobs Number Increase
Numbers in Thousands
Total U.S. Jobs Number Increase