Putin: U.S. Is a Global 'Parasite'—but He Likes the Debt Deal
Breaking:
Former member of the Communist Party of the Soviet Union has harsh words for big government.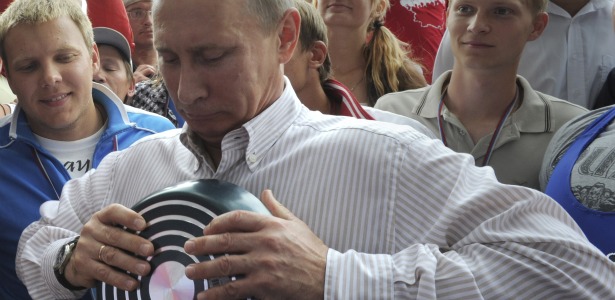 RIA Novosti / Reuters
Russian Prime Minister Vladimir Putin called out the United States for living off global borrowing "like a parasite." He added he was pleased lawmakers agreed to reduce the deficit, a deal that sent Russian stocks to three-month highs. Reuters has the quotes:

"They are living beyond their means and shifting a part of the weight of their problems to the world economy," Putin told the pro-Kremlin youth group Nashi while touring its lakeside summer camp some five hours drive north of Moscow.

"They are living like parasites off the global economy and their monopoly of the dollar," Putin said at the open-air meeting with admiring young Russians in what looked like early campaigning before parliamentary and presidential polls.
How will the media spin this story in the next few days? A few candidates for our friends in cable news:
1) The Too-Easy Angle: Former member of the Communist Party of the Soviet Union, and current prime minister of Russia, has harsh words for big government. How people change!
2) The Soon-on-Fox-News Angle: Hey Democrats, even Russia thinks the U.S. spends too much money.

3) The Counter-to-Fox-News Angle: Actually, Russia approved a 2010 draft budget with deficits equal to 7% of GDP. Seven percent of U.S. GDP would leave us a $1 trillion deficit. That's less than our current shortfall, but it's not exactly thrift.

4) The Moderate-Technically-Speaking Angle: Parasites are unwelcome, exploitative nuisances. International investors lend money to the United States because they want somewhere safe to park their cash. We sell them debt because we don't want to raise taxes or cut spending to run a balanced budget. Sounds much closer to symbiosis.
5) The Political-Science/Internal-Politics Angle: An overseas frenemy and energy rival using pejorative language to describe U.S. politics? It must be ... a day of the week.