No Double Dip Yet: July's 117,000 Jobs May Calm Fears
This isn't wonderful news. But considering the terrible numbers in May and June, it certainly could have been worse.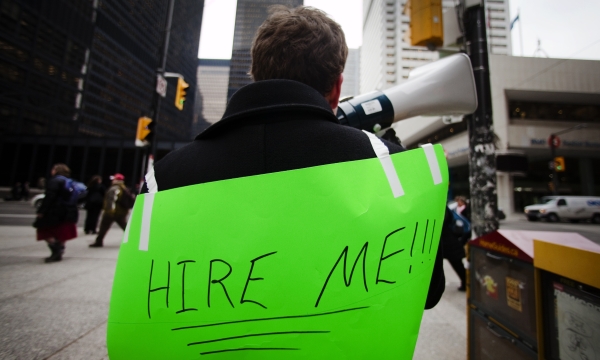 Maybe the U.S. economy isn't headed off a cliff? After a heap of bad economic reports in June, firms increased their hiring in July. Jobs grew by 117,000, according to the Bureau of Labor Statistics. That's more than May and June's combined total of 99,000 new jobs. The national unemployment rate also ticked down slightly to 9.1%. Do these numbers indicate that the weak recovery has resumed and that a double dip recession might not be quite so inevitable?
First, here's the chart showing how the unemployment rate has changed since the recovery technically began in the summer of 2009: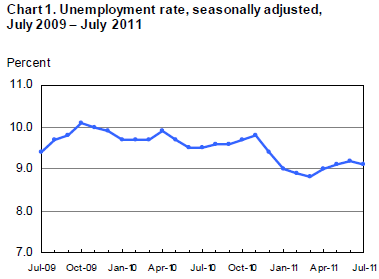 You can see that it's been pretty steady around 9% in 2011. Although jobs are being consistently added to the U.S. economy, they aren't growing fast enough to outpace population growth. This leaves the rate little changed.
Drilling Down
July was no exception to that rule, even though it fared better than the past few months. Here's the breakdown between private, government, and total jobs added last month: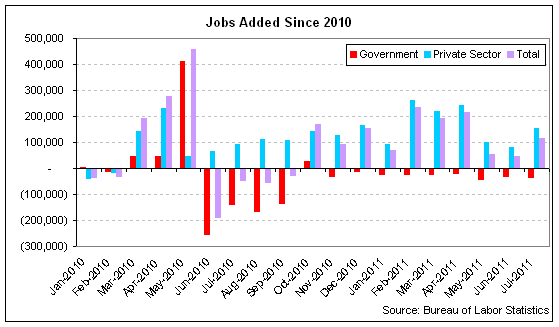 You can note a few things from this chart. First, despite somewhat stronger hiring in July, it was still weaker than what we saw earlier this year. From February through April, the economy added an average of 215,000 per month.
Some more modest good news is that May and June's terrible numbers were revised upwards a little. In May, 53,000 jobs were created instead of 25,000. In June, 46,000 jobs were added instead of 18,000. These numbers are still pretty weak, but they aren't quite as bad.
The private sector continues to provide the boost to hiring, while the government keeps getting in the way. In July, the private sector added 154,000 jobs while the government cut 37,000. This year, the government has shed a total of 218,000 jobs.
Here's a breakdown of how some significant sectors performed last month: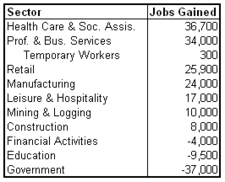 You can see that most of these sectors added jobs -- even construction. Education continues to struggle, but that's because it's largely a subset of state and local government jobs.
Stepping Back
As mentioned, 117,000 jobs is something, but it isn't enough to keep up with population growth. And yet, the unemployment rate ticked down. How did that happen? A staggering 193,000 unemployed Americans left the workforce in July. That's well above the number of jobs created during the month. As a result, the actual number of employed Americans actually fell by 38,000. So the decline in the number of labor market participants pushed the unemployment rate down to 9.1%, from 9.2% in June.
Still of those 193,000 that left the workforce, only 38,000 more people were not in the workforce but wanted a job, according to BLS. The number of Americans technically considered unemployed plus those who want a job but don't qualify as unemployed under the BLS's definition was 20.5 million in July, about 120,000 fewer than in June.
Yet the number of workers who were discouraged or otherwise marginally attached to the labor force grew in July. It increased by about 100,000 to 2.79 million during the month, near the high of 2.80 million hit in January (please note that this is the only statistic in this article not seasonally adjusted):
The broadest measure of underemployment that BLS calculates "U-6," which includes the discouraged, the marginally attached, and those forced to work part time for economic reasons declined slightly in July to 16.1% from 16.2% in June. That's still a painfully high percentage of Americans that aren't working full-time but should be.
The unemployment duration numbers were little changed during the month:
The number of Americans who have been unemployed for the longest according to these groupings fell by 104,000 in July. In many cases, this might have been due to exiting the workforce instead of finding a job, however.
The Verdict

Really, we shouldn't celebrate 117,000 new jobs. This isn't keeping up with population growth, which means that the unemployment rate isn't ticking down thanks to hiring. Instead, additional workers are leaving the work force. So if we're in a recovery, it's an extremely anemic one. To cut the number of unemployed Americans in a meaningful way, we need to see economic activity pick up so that firms hire more workers.
Still, we should be a little relieved that employment didn't turn negative. After what appeared to be two disastrous months for the labor market in May and June, July looked a little better. If hiring continues to improve, then the doom and gloom that hit the market yesterday when the Dow dropped 513 points could be unfounded. After all, the number of 117,000 new jobs did beat expectations, which predicted around 85,000 would be added.

But right now, we remain in a period of uncertainty. The economy could climb back into its slow recovery or slip back into recession. How the economy fares over the next few months will be crucial.
Image Credit: REUTERS/Mark Blinch