Let's Have a Receipt Renaissance
As in decades and centuries past, this economic crisis could provide an opportunity for graphic innovation—at your local corner store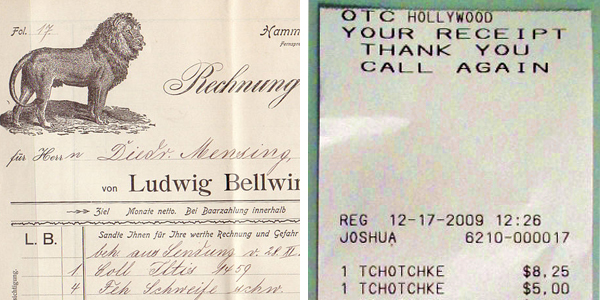 On the left, a carefully drawn receipt from a German fur trader in 1906; on the right, a typical modern receipt. Wikimedia Commons
Retail receipts feel clammy and unwholesome because they are, with high levels of the known carcinogen BPA. They also fade and become unreadable with time. So I greet the movement for paperless receipts and don't agree there's any privacy issue. Just open a separate account for receipts.
But for many organizations, wouldn't it be even better to rethink paper? With little expense, inkjet and even dot-matrix receipts, perhaps with rotating designs submitted by customers online, could be entertaining and memorable. And the economic time actually is right. Graphic innovations thrive in crises. The Panic of 1857 catalyzed the merger of currency engravers into the American Bank Note Co., which became the world industry leader. Daguerreotypes flourished during the Panic of 1837, tintypes in the Panic of 1873, halftone-illustrated magazines in the Panic of 1893, and everything from Fortune and Life magazines to the pulps to comic books in the Great Depression. These are the times when people want more rather than less panache and color in their lives.
For inspiration, some examples from the late 19th century, from the collection of the Raleigh City Museum.