June's Rotten Trade Numbers Mean Weaker Q2 Growth
Exports fell faster than imports in June, which isn't good news for the U.S. recovery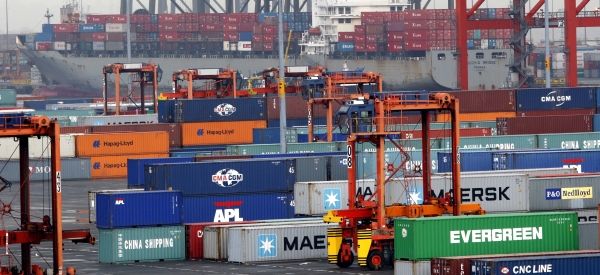 The ugly economic reports for June just keep coming. We can add exports to the list, which fell by $4.1 billion during the month. Imports fell as well, but by only $1.9 billion. This caused the trade gap to widen to $53.1 billion, marking another new post-financial crisis high. While this news is bad for its own sake, it will have negative ramifications on the already weak second quarter GDP estimate.
First, here's the chart from the Bureau of Economic Analysis data: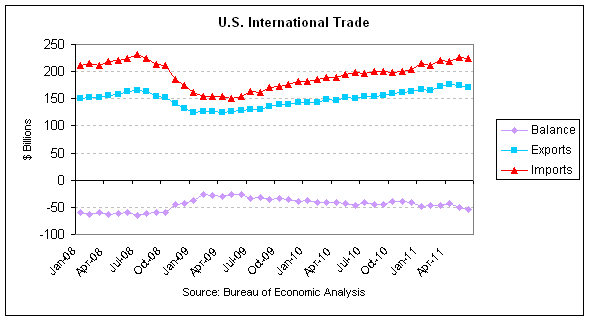 This is pretty self-explanatory. You can see that the trade gap has been steadily widening since April.
The reason for June's poor performance appears to be a general decline in global demand. Categories from food to fuel to machinery all saw big declines during the month. And the trade gap widened despite a big drop in U.S. oil imports.
Obviously, we don't like to see exports fall at a time when a nation is attempting to recover from a recession. If fewer U.S. products and services are purchased by other nations, then trade won't spur additional hiring.
June's weak performance will also affect the second quarter GDP. Its growth estimate appears to have assumed a better result for the month than what today's report indicates. The quarter's weak 1.3% growth rate included a 0.5% positive contribution from net export growth. If you recalculate net exports for the quarter using the same inflation estimate, then trade's contribution to growth drops to 0.4%. So we should expect to see last quarter's growth rate revised downward to around 1.2% later this month based on trade alone. (Other components may have also changed, of course.)
It's getting harder and harder to see where a recovery is going to come from. We already know that consumer spending has been weakening. The federal government will soon join state and local governments with austerity measure to cut spending. Now we see that net exports are declining. With all of the other three corners of the economy weakening, it may be up to business investment to carry growth. Yet faced with slowing economic activity, firms' spending could begin to decline as well.
Image Credit: REUTERS/Mike Segar