Home Sales Are Falling: Will Consumers Force a Double Dip?
Mortgage purchase applications plummeted to near their 14-year low last week. Can the economy climb out of its tragic cycle?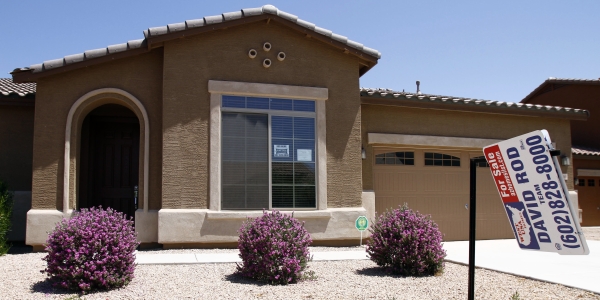 As the bad news continues to pile on, Americans appear to be taking note by closing their wallets. The latest brutal report indicates that home buying demand is likely falling to even lower levels. Mortgage applications for purchases were the weakest in more than a year, according to the Mortgage Bankers Association. In fact, its index last week was second lowest that we've seen since 1997. This period includes the huge drop that sales experienced after the home buyer credit expired last year. Consumers are clearly nervous.
Mortgage Purchase Applications Plummet
Here's the chart to provide a little perspective (the green line represents the index value as of the week ending August 12th):
Mortgage purchase applications have been slowly declining since early April, but last week they dropped 9.1%. This data doesn't account for all potential home sales -- some all-cash transactions also occur. But cash purchases primarily occur with investors, so mortgage purchase applications should provide a fairly clear picture on how consumer demand for home buying is changing. At last week's level, demand was extremely weak.
The MBA's report is a useful for two reasons. First, it provides a very early indicator for home buying demand. For example, the National Association of Realtor's existing home sales report that comes out on Thursday provides sales that closed in July, which means it really provides buying demand for as far back as May and June. The MBA report shows us how consumer demand for homes looked just last week.
Second, the report provides a way to gauge consumer confidence on a weekly basis. Big sentiment declines don't always translate into big drops in consumer spending on a whole, because a fair amount of spending isn't discretionary. But most home buying can be delayed until consumers are more comfortable with the economic situation. Assuming that no housing market specific shocks are playing a role, a big decline in mortgage purchase applications implies a big drop in consumer sentiment.
So What Happened?
This wasn't just any week during which mortgage applications for purchases plummeted. It occurred during a week when mortgage interest rates hit a new record low, according to Freddie Mac. As a result, mortgage applications for refinancing are experiencing a mini-boom. But those ultra low rates weren't enough to convince more consumers to purchase homes; indeed, we saw the opposite. Sentiment must have been so low that even the benefit of ridiculously low mortgage interest rates couldn't prevent a big 9.1% drop in purchase applications.
We can easily guess what's causing Americans' nervousness. Last week consumers reacted to the news that the U.S. had been downgraded. The S&P 500 also fell 7.7% in the prior week, ending August 5th. Then stocks experienced crazy volatility last week, which consumers probably interpreted as significant uncertainty about the economy. Although stocks aren't moving as wildly this week, those other shocks remain intact. So there's little reason to believe that consumers are feeling much more optimistic this week than they were last week.
Pessimistic Consumers: The Most Dangerous Threat to Recovery
We've seen a lot of harmful economic shocks recently, like natural disasters, instability in Europe, political unrest, rising oil prices, volatile markets, and downgrades. Those all play a part in stifling economic activity. But their real risk is indirect, as they drag down consumer sentiment.
The biggest problem that the economy faces right now is unemployment. If the U.S. suddenly added 15 million jobs, then most of the other issues would work themselves out: home sales would jump, tax receipts would increase, the stock market would stabilize, and even rising gasoline prices would be a little easier to stomach. But firms aren't going to ramp up their hiring if consumer demand doesn't rise. In fact, if it falls they may resume layoffs.
So what we're seeing here is a sort of tragic cycle. The nation isn't seeing the unemployment rate decline, because consumers aren't comfortable spending freely. But one of the chief reasons that they aren't comfortable spending freely is because unemployment is so high. As long as consumers see a huge number of Americans out of work, they won't feel that the nation's economy is completely stable. That's why we have been seeing such sluggish job growth, even when the unemployment rate appeared to be declining a little.
But if sentiment drops and remains low, then even that anemic job growth will disappear. At that time, the chances of double dip become much greater. If consumers pull back in a meaningful way, then it's hard to see how firms will be able to resist additional layoffs, which of course would result in sentiment and spending to decline even more.
Image Credit: REUTERS/Joshua Lott