Does the Fed's Language Tweak Really Mean Anything?
The central bank stated on Tuesday that it will keep interest rates near zero for two more years, but it could change its mind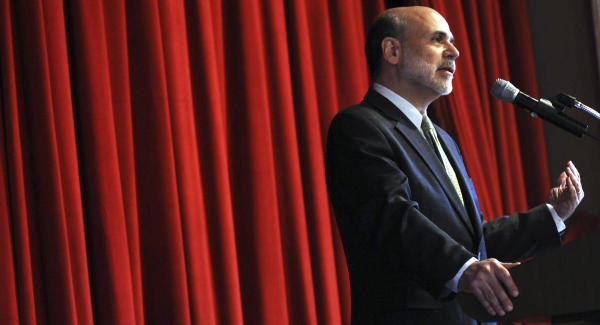 Tuesday afternoon, the market appeared to celebrate the Federal Reserve's latest attempt at stimulate the economy. The central bank announced that it will keep interest rates near zero through mid-2013. The major indices immediately fell: this wasn't the additional monetary stimulus that the market was hoping for. But stocks later rose, as some traders decided to treat the Fed's statement on interest rates as a promise that they could profit from. But can we trust the Fed at its word?
David D. Moenning provides a fantastic explanation at Business Insider for why the stock market soared at the end of Tuesday. Traders realized that the Fed's assertion that interest rates would be kept near zero for at least 20 months was an opportunity to lock in a "dollar-carry/risk trade." Without getting too technical, this occurs when large investors, like hedge funds, borrow dollars at a low interest rate (by short selling T-bills) to invest in a higher-yielding asset that contains more risk, like stocks. This trade became very attractive because the Fed appears to have provided some certainty for how long interest rates will be held very low.
This raises a question: does the market really have certainty here? The Fed tends to keep its promises. When it engages in a new strategy, it stays the course. In this case, the market is literally betting that the Fed will keep its word.
But two years is a long time, particularly when an economy is in transition. What if something changes drastically next year? What if unforeseen shocks or events begin to push up inflation more aggressively? If the U.S. economy is suddenly facing an astronomical inflation rate of, say, 10%, would the Fed really just shrug and mutter, "Oh well, we said we'd leave interest rates low until mid-2013, so we'll just have to wait this thing out."
Such a response seems very unlikely. The Fed is under no legal obligation to keep interest rates low until mid-2013 just because it indicated its intent to do so in a monthly statement. If the economy takes an unexpected turn that should require it to act differently, the Fed would be foolish to keep its word.
Still, the market might not anticipate any drastic, unexpected shocks to occur between now and mid-2013 that might lead the Fed to ignore its articulated policy. But then, we already knew that the Fed was going to leave interest rates exceptionally low for an extended period. This less aggressive language could only be interpreted to mean that, so long as inflation is under control and unemployment is higher than we'd like, interest rates will remain near zero. How does specifying a vague timeline really change anything? After all, we just concluded that, despite the detailed language, the Fed could still raise rates before mid-2013 if the economy dictates that it must. So does the market really have additional, meaningful information now?
For this reason, the Fed's clarity shouldn't thrill the market: it changes very little. Interest rates will remain low for a very long time, unless the Fed needs to raise them sooner than anticipated. That was what the market understood on Tuesday morning and its understanding was little changed after the Fed's statement was released at 2:15pm.
The Fed's strategies are not written in stone, particularly when no mechanism needs to be tweaked to reverse them. Although interest rates may very well remain near zero through mid-2013, the Fed is not constrained by its word. And it shouldn't be. If a change in the economy requires it to act differently, it should freely do so -- and the market shouldn't be shocked if it does.
Image Credit: REUTERS/Keith Bedford