Dippin' Dots: What's the Future of the 'Ice Cream of the Future'?
In 23 years, the distinctive beaded ice cream brand has grown from a Kentucky garage to thousands of locations around the world. Its next step? Many new products, same old dots.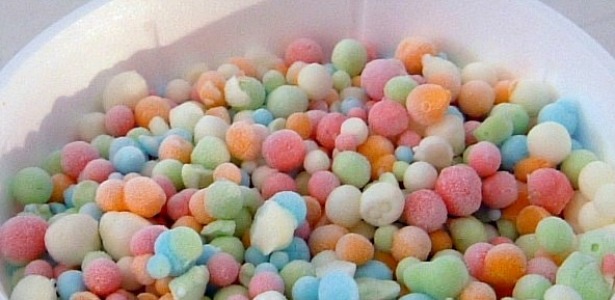 In 1996, when I was ten, there was one reason, and one reason only, to join my mom and sister at Tysons Corner mall outside Washington, D.C. That reason was Dippin' Dots.
After the girls tried on dresses and dragged me through the Nordstrom khakis rack, I would collect my just reward for good behavior. My cold, pelletized currency of choice was Dippin' Dots ice cream. The colorful mound of flash-frozen beads started crunchy before melting into a recognizable creaminess. It looked like cereal. It tasted like dessert. The kiosk said "Ice Cream of the Future." Ten-year olds like me believed it just might be.
Dippin' Dots burst onto the scene in the 1990s, doubling sales in consecutive years, as it conquered amusement parks and malls like Tysons Corner. But the sugar rush has slowed in the last decade. The company lost its signature patent in 2007. Its effort to expand into franchises ran up against the Great Recession. Today, there are 3,000 Baskin Robbins shops in the United States and more than 300 Ben and Jerry's locations. But Dippin' Dots — despite claiming thousands of locations worldwide — is struggling to keep more than 200 franchise shops open in the U.S.

Still there is reason to think the ice cream of the future has a future. When I spoke to CEO Curt Jones, he sounded optimistic and excited. For the last few years, the company has been developing new pelletized products to move them beyond the ice cream market into yogurt, coffee, and even alcoholic beverages.
Curt Jones grew up in a farm in southern Illinois. With his family in Pulaski County, he churned home-made ice cream. He dreamed of becoming a microbiologist.
After college, he landed a job in Lexington, KY, to help a team of scientists turn bacteria into animal feed. Jones developed a technique to improve the digestibility of the cultures through flash-freezing. "I was pelletizing these bacteria in liquid nitrogen," he told me. "The faster you freeze something, the smaller the crystal that is formed.
He still dabbled in ice cream. Two months later, Jones was preparing ice cream with a friend, and he realized he could freeze the mix faster with liquid nitrogen. "The proverbial light bulb went off," he said. Fast-freezing would create smaller ice crystals and create a smoother taste.
It was 1987. Six months later, Curt would quit his job and open a store in Lexington to sell "pelletized" yogurt and ice cream. He called his outlet "The Yoglet Shop." But Curt never liked the name. So that Christmas, he and his wife held a brainstorming session with their friends. "Somebody wrote dip-in-dot," he said. "I misheard it as Dippin' Dot. I liked it."

The next year -- 23 years ago -- Dippin' Dots officially opened. Spurred by a successful kiosk at Opryland in Nashville, the company quickly realized that they could thrive at amusement parks.
"In that first year at Opryland, we sold $360,000 of ice cream and the other ice cream sales onlywent down by an estimated $90,000," he said. Theme parks are more likely to accept new kiosks if they don't steal the old guards' business. Nashville crowds loved the novelty of pelletized ice cream, Jones realized, but they didn't necessarily see it as a substitute for ice cream (a realization that might have foreshadowed future difficulties).

Growing a business into an international success sounds like the ultimate question. In fact, it only leads to another question: What do we do, now?

TOO DARN COLD?
Dippin' Dots' chief asset -- its funny-looking pelletized technology -- is also its chief liability. Simply put: It's too darn cold.* Home freezers tend to be about zero degrees Fahrenheit. Supermarket freezers are often colder, around negative-10 degrees. That's good enough for regular ice cream. But Dippin' Dots must be stored at 40 degrees below zero without losing their eponymous dotness. So the product cannot sell in most supermarkets or live in most freezers.
Today the company website carries the following instruction: "All online orders are shipped using Dry Ice and must be delivered to you within two days." Jones is trying to develop a higher temperature product that can sell in markets and doesn't require that families buy Dry Ice.
Dippin' Dots recently developed a line of coffee products it calls Forty Below Joe. The product doesn't look so different from chocolate Dippin' Dots: dark espresso dots made from Brazilian and Guatemalan Arabica beans served in a plastic cup.
"All of our coffee products are what we call high-temp," said Billie Stuber, a spokesperson. "Our coffee products can be held at a higher temperature, like a freezer."
A pelletized coffee product might strike you as a dead-zone -- too old for kids ("Mom, what's an espresso bean?") and too young for adults who prefer their coffee in mugs rather than ice cream cups. But Stuber insisted that it has tested positively testing in theme parks across the country, like Universal Studios in Hollywood and Jolly Roger park.

Dippin' Dots isn't trying to be Starbucks. The company's competitive advantage isn't in ubiquity, but in serendipity. Foot traffic at theme parks has a different mood than Main Street pedestrians. Whatever that mood is, it's the secret sauce in Dippin' Dots' success. "We found that Dippin' Dots is more of an impulse buy than a destination," Stuber said. "For whatever reason, on the street it fades into the background. In a mall, it piques your interest."
THE FUTURE OF THE 'ICE CREAM OF THE FUTURE
From beverages to breakfast, Dippin' Dots is looking for more ways to become a bigger part of your life, one tiny dot at a time. "The ice crystals in Dippin' Dots are 50 times smaller than regular ice crystals," Jones said. "The best way to lock in freshness is to freeze something quickly with liquid nitrogen. This has applications way beyond ice cream."
As part of its campaign to hook adults to pellets, Jones has found a way to get Dippin' Dots into bars. The company, that is, not the product.

"Bartenders don't like to make blended drinks because it takes too long," Jones said. "We created a product called Island Rox. It's a bead with a margarita or daiquiri flavor. If you add beads to tequila, and it's a margarita or daiquiri." After two years of development, Island Rox is launching in five Nashville bars this year.

The research and development offices in Paducah have been buzzing for the last few years. Jones' preview of future innovations include: a "magic shell" ice cream topping made from a cluster of free-rolling beads glued together "like a piece of popcorn"; frozen beads of high-protein supplements for smoothies; and a yogurt bead with a frozen blueberry and granola inside it.

Jones hopes this surge in pelletized creativity helps the company recapture its mid-90s giddiness. But he knows that he's done alright with for a microbiologist with a penchant for ice cream. "We started this thing in my garage," he said. "Once again, we're ready to launch things."

________
*An explanation of freezing process, with an assist from an issue from Dairy Foods magazine provided by Dippin' Dots, is under the patent image