As Stocks Gyrate, Confidence Plummets for Upper Income Americans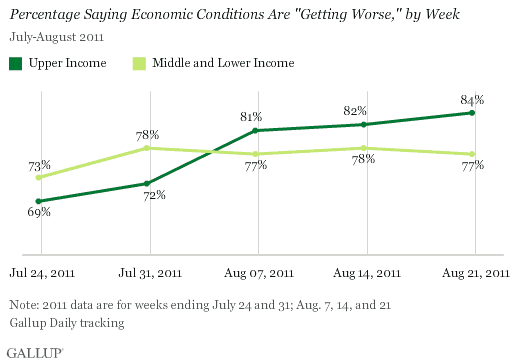 We called it the two-speed recovery. Middle and lower class families have suffered double digit unemployment, little wage growth, zero spending improvements, and rising gas prices. But for people making more than $100,000, this has been a downturn, but hardly a Great Recession. Employment among bachelor's and graduate degree holders has been less than 5% for more than a year. (That doesn't mean this is an easy economy for grads.) The stock market raced ahead of the private sector thanks to strong growth among multinational corporations and a handful of financial companies.
But the gyrations of the past few weeks have made the upper class even more nervous than middle and lower income families:

The last time upper-income Americans were more pessimistic than other Americans on a monthly basis was during the financial crisis of November 2008 to March 2009. At that time, Americans were facing both a banking crisis and a plummeting economy. Now as then, upper-income Americans are challenged not only by a slowing global economy and housing depression, but also by the financial crisis in Europe, as well as a highly volatile market and declining values on Wall Street.

Only 54 percent of Americans own individual stock or a self-directed 401(k). The vertiginous month on Wall Street has freaked out the richer investment class, but as you can see, it's barely registered for middle and lower income families. It's impossible to say how this collapse in confidence trickles down in the next few months. But it's safe to say the rich are getting a taste of how the middle class has experienced this recovery.

>