U.S. Trade Gap Soars to 31-Month High in May
Imports were the second highest ever as exports shrunk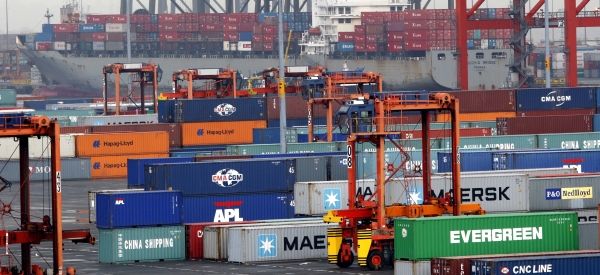 We already know that the U.S. economy had a rough month in May, but today we've got more bad news: the trade gap also jumped. It rose by $6.6 billion to exceed $50 billion for the first time since October 2008. This isn't just a story of imports growing rapidly -- exports also declined by about $1 billion. If this trend continued through June, then trade could have negative repercussions for second quarter U.S. growth.
Here's the chart, showing how the trade balance has changed since 2008, according to the Bureau of Economic Analysis:
May's decline in the balance might look like a small tick, but it was the second biggest decline in 22 months. At $50.2 billion, the trade deficit was the largest in 31 months. You can see that it was last above $50 billion in the fall of 2008 -- just as the financial crisis peaked and the global economy began to reel.
Breaking out imports and exports shouldn't make us feel any better. Exports declined, after rising in the two months prior. But the big story was imports. They increased by $5.6 billion. At $225.1 billion, imports were the highest since July 2008. And that was the only month when they were higher than they were in May.
Looking at some of the big movers in May helps to understand these shifts:
Oil drove the rise in imports. Petroleum alone was responsible for more than half of the increase in the trade gap. On the exports side, you can see that no one good had a very large positive impact.

May's trade report actually follows a fairly positive result in April, when the gap declined and exports rose. But if the trade gap didn't shrink significantly in June, then net exports may have resulted in a net negative contribution to GDP. This wouldn't be pretty grim news.
In the first quarter, trade had a relatively small positive effect on GDP growth, which was relatively disappointing at 1.9%. If net exports turn negative, then we may not see any growth at all. Real spending appears to have fallen a bit and government spending also may continued to contract. With no help from trade, business investment may be responsible for carrying the quarter and may have to overshadow declines in the other components for the U.S. to have achieved growth.
Image Credit: REUTERS/Mike Segar