U.S. Corporations Don't Make Jobs Like They Used To
With every month's employment survey, economists and journalists have to find new ways to write the headline "Job Report Surprises and Disappoints." It's getting difficult because the news is so dependably awful and the Thesaurus is only so thick. But it's time to at least drop the word "surprises" and understand that the private sector does not work for workers the way it used to.
Thomas Friedman on Silicon Valley:
Look at the news these days from the most dynamic sector of the U.S. economy -- Silicon Valley. Facebook is now valued near $100 billion, Twitter at $8 billion, Groupon at $30 billion, Zynga at $20 billion and LinkedIn at $8 billion. These are the fastest-growing Internet/social networking companies in the world, and here's what's scary: You could easily fit all their employees together into the 20,000 seats in Madison Square Garden, and still have room for grandma.
Right on, but it's not just the valley. Here's a look at the 10 most valuable companies in the world in 2011 vs. 1964 in order of market cap (in red) with their number of employees (in blue). The decline of the wired telecommunications industry and manufacturing correlated with the rise of companies that could make much, much more money with much, much fewer workers (Walmart excluded). Figures via New York.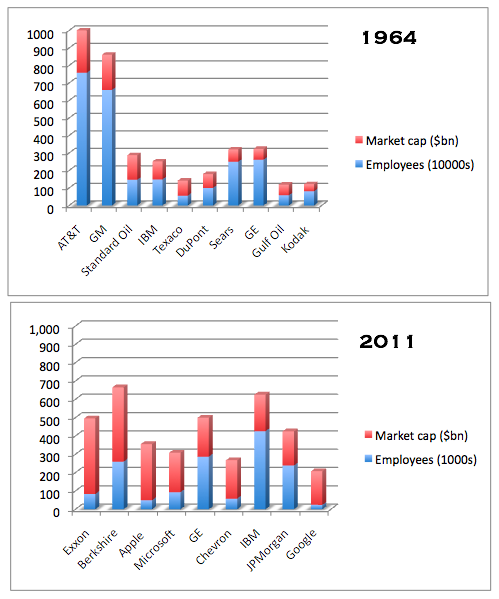 And here's another illuminating graph. Labor efficiencies (MBA-speak for not hiring, paying your workers less, or reducing benefits) are helping large companies boost their profit margins. Across the S&P 500, labor cost reduction helped drive historic profits in the 2000s, as JP Morgan showed with this graph. Remember, this took place during an expansion.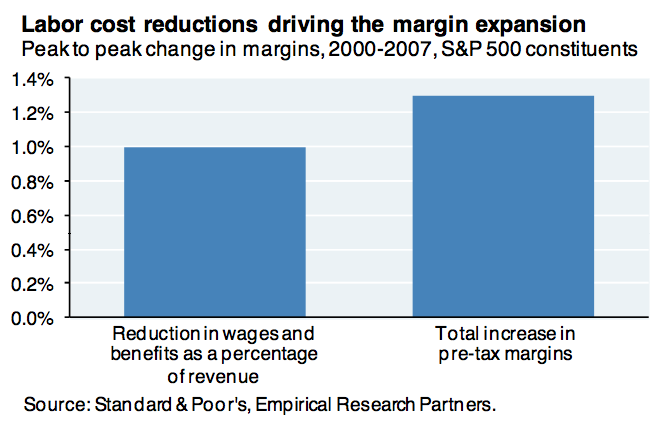 Friedman goes on to make the point that Washington rhetoric doesn't "understand" this labor market phenomenon. I don't think that's right. Washington's rhetoric is about spending and taxing, rather than automation and wages, because Washington controls spending and taxing, not automated jobs or private sector wages. But when we're debating shrinking government and banking on the private sector to pick up the slack with hiring, remember: This ain't your grandpa's private sector. It ain't your dad's either.