Unlock Capital for Small Business
What's the single best idea to jumpstart job creation?
The United States should create a national microlending program positioned to provide ready access to capital to small business. It is widely acknowledged that small business represents the engine of job creation in this country. Small business accounts for approximately 50 percent of all private-sector jobs, and roughly 70 percent of all new jobs created in the past decade.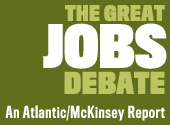 Unfortunately, the job creation engine of small business is out of gas; new job creation among existing small businesses has been stagnant for the past two years, and most troublesome is the fact that the number of new business start-ups has declined dramatically over the past decade. In fact, the Bureau of Labor Statistics reports that the number of new businesses created for the year ending in March 2010 was at its lowest count since 1994.
Politicians and policy makers have attributed this situation to tightening credit markets as banks recalibrate their tolerance for risk in response to one of the most significant financial downturns in US history. That's true, but it's not the whole story. At a deeper level, today's tighter credit is about risk and profit.
In today's environment, banks have much less incentive to extend a traditional small-business loan ($5,000 to $25,000), because the relationship between the transaction costs associated with processing that loan and the return on that investment to the bank often doesn't make economic sense. It's all about opportunity cost.
For example, consider that the transaction costs associated with processing a $10,000 loan to a small business and a $5 million loan to a large business are roughly the same. Also recognize that the return on investment to the bank (that is, the interest paid on the loan) increases proportionally with the size of the loan--the larger the loan, the more interest income generated relative to the "cost" of issuing and servicing the loan. Therefore, whether you are a large public bank with a fiduciary responsibility to shareholders or a small credit union responsible to its membership, there is an incentive to focus on larger and thus more profitable loans. Banks are in business to make a profit.
Research highlights that most small businesses, especially over the first five years of operation, require only small and incremental infusions of capital to sustain positive growth. A national microlending program positioned to provide capital infusions of $1,000-$20,000 to small business--created as a partnership between government and community-based lenders--would represent an compelling channel for small businesses to access start-up and growth capital.
The key to a successful microlending program is to keep transaction costs low and the loans 'local,' thereby generating an acceptable return to the lender. Government could incentivize this program by providing legislative clarity related to the processes and oversight standards for these small loans, and by expanding programs such as the SBA's 'Community Express' lending initiative, which provides technical assistance to borrowers in underserved communities, and incentives to lenders. Expanding the program beyond underserved communities is a readily available way to jumpstart a national microlending program, and ultimately to add fuel to the job creation engine that is small business in America.

Follow the debate here.