The Real Jobs Crisis vs. a Fake Debt-Deal Crisis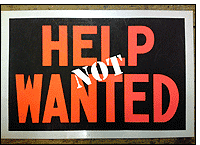 The political marketplace increasingly believes that President Barack Obama and House Speaker John Boehner are closing in on a deal on long-term debt cutting and revenue raising that will avert the catastrophe of telling America's creditors that their faith in America was misplaced.
Many will debate whether there ever really was a chance of default, that the antics of House Majority Leader Eric Cantor and the Tea Party Caucus were brilliant kabuki but not serious.
For the many weeks of pundits agonizing about what really would happen if the US defaulted, if the August 2nd date were real or fake (did it really make a difference if the date was August 3rd or August 4th?), after the deal is done -- if the deal is done -- Americans will soon develop amnesia about most of the details of the episode and move on to the next issue over which the political class and media decide to hyperventilate.

The brinksmanship over the debt ceiling, the certainty of each side's positions, the complete absence of humility over America's real economic condition and how best to improve it are the real danger sign.  This is the kind of arrogance that dominated economic discussions before the recent financial crisis.
If the debt ceiling standoff was orchestrated theater -- not real -- sort of what Congress used to do each year in flamboyantly threatening to cut off trade with China by refusing to renew Most Favored Nation trade status (which was always a fake threat and eventually evolved into Permanent Normal Trade Relations with China) -- then the nation has yet again allowed itself to be duped into distraction about something not real while abandoning what mattered:  the nation's wrenching jobs depression.
Jobs. Jobs. Jobs.  Politicians talk about this a lot during elections -- but when they suit up and finish their workout in the Congressional gym, they get on a different track and perform lines of a script not determined by what the nation really needs but rather what drives anxiety levels up, just to be brought down with a massive blast of relief before some crisis was averted.  It's like a big DC live act version of 535 Senators and Congressmen wanting to be Harrison Ford in Air Force One.
According to McKinsey & Co., America needs to create 21 million jobs by 2020 and isn't getting there fast.  According to the entrepreneurship-focused Kauffman Foundation which just released in Washington a set of proposals called "The Startup Act", all new net job creation in the US comes from young firms -- which are en masse performing today far below par and could use a boost like the issuance of entrepreneurship visas and capital gains waivers for long term investment in startups -- both of which would be job creating.  Starwood Hotels CEO Frits van Paasschen told me a few days ago at The Atlantic's big jobs forum that one way to generate a huge number of new jobs across the US service sector is to double or triple the tourist visa issuance capacity of Chinese visitors who want to visit and see the US.  The demand is there -- but we have a wall up against it and are thus are essentially saying "no" to a key source of demand abroad while demand is flat at home.
Others are talking jobs and how to create demand too.  In fact, my colleagues at the New America Foundation are having a program today with Leo Hindery, Congressman John Garamendi (D-CA), Sherle Schwenninger, National Journal's Michael Hirsh and others on jobs creation.
And on Monday morning, I will be moderating at UCLA a panel with California Governor Edmund G. "Jerry" Brown, NRG Energy CEO David Crane, Google green stuff czar Rick Needham, and SolarCity CEO Lyndon Rive on building out locally generated renewable energy resources which also pumps demand and could be a significant job creator (the meeting will stream live on my page).
But instead of jumping on the jobs crisis, Congress and the White House have chosen to wrestle over debt and over the broad question of economic solvency of the country.
We don't entirely know what the outcome of this debt ceiling limit stage performance will be -- but it seems 99.9% sure that both sides will emerge with smiles, the audience across America tuning in each morning to Morning Joe and Fox & Friends will feel the emotional highs of disaster averted, but the real work on America's employment disaster is what remains out on the streets.