The Best Ideas to Jumpstart Job Creation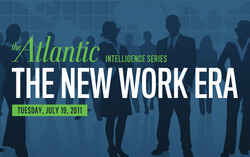 The Atlantic and McKinsey have co-hosted an
online debate
on job creation for the past week. We've canvassed CEOs, foundation chairs, policy wonks, and journalists, asking each participant to name
the single best idea to jumpstart job creation
. Answers have ranged from painting your roofs white, to repealing Obamacare, to launching another round of quantitative easing. You can follow that debate
here
.
Today we take the debate live in an all-day event "The New Work Era" at the Newseum organized by The Atlantic and underwritten by McKinsey & Co.
As per my colleague Steve Clemons, editor in chief of Atlantic LIVE, today's lineup includes: The Honorable Arne Duncan, Secretary of Education, United States Department of Education; Jeff Joerres, Chairman, Chief Executive Officer, and President, Manpower Inc.; Frits van Paasschen, Chief Executive Officer and President, Starwood Hotels & Resorts Worldwide Inc.; John Sexton, President, New York University; The Honorable Mark Warner, Senator, United States Senate; Lenny Mendonca, Director, Firm Knowledge, McKinsey & Co.; Steve Case, Chairman & CEO, Revolution and Co-Founder, America Online; among others.
You can watch the event by clicking on the video screen below, or join us in the online debate room.