The 16 Best Ideas to Supercharge Job Creation in One Venn Diagram
The most interesting and substantive ideas from the Atlantic/McKinsey Great Jobs Debate
For the past two weeks, in the shadow of a debt ceiling showdown on Capitol Hill, we've canvassed CEOs, mayors, education leaders, and journalists to give us the single best idea to supercharge job creation.

In this Great Jobs Debate, co-hosted with McKinsey & Company, our contributors have gone long, emphasizing changes to education that might not pay off in many years, and thought short, pushing changes in Federal Reserve policy and taxes that could make a big impact immediately.
As the debate winds down, I wanted to find a way to highlight some of the best ideas in a way that went beyond price tags and time frames. So here's a Venn Diagram of 16 of the most interesting and substantive ideas we've heard in the last two weeks: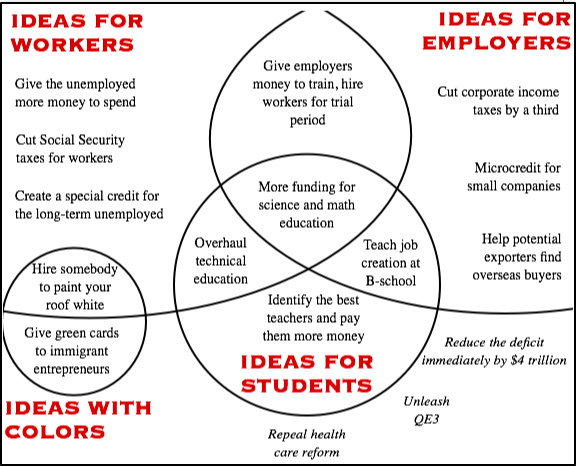 As for my single best idea ... well, I'll pick three. Call it the ultimate jobs package. I would combine a short-term payroll tax cut (near term stimulus), with a bill to give visas to immigrant graduates in science, technology and business (medium term stimulus), with a comprehensive $4 trillion deficit deal with about $2 trillion in higher revenue (long term security). The first is necessary, the second is free, and the third is just prudent.
Thanks to all those who read and participated.