Teach Job Creation at Our Business Schools
What's the single best idea to jumpstart job creation?
Behind every job is a growing company. And behind every successful company is a startup that made it big. New businesses, according to a recent study by the Kauffman Foundation and others, account for three out of five new jobs. To support job growth, we have to support startups.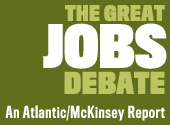 Sometime ago, I was having lunch with a Danish colleague Uffe Elbaek who, among other things, is the founder of KaosPilots. Elbaek told me participants in the KaosPilots program are taught that it's not enough for their graduates to learn how to get a job. Their mission is to create jobs, both for themselves and for other people.
What if creating jobs -- for ourselves and for others -- became the mantra of our MBA, engineering, science and graduate programs? We know that the job market is split, and that we are creating good high-paying jobs for those with high levels of education and skill alongside a lot of low-skill jobs for those with less skill and lower levels of education. We need smarter, more explicit means of using the talents of the former to help the latter.
It's become clear that neither government programs nor large companies can solve the jobs program alone. Government at all levels is caught in a fiscal trap, and large companies are finding it easier to invest in technology and overseas labor than to expand at home.
We need to build in our next generation of entrepreneurs a new mindset that engages young, motivated people to welcome the challenge of job creation. Perhaps this sounds wishy-washy. It's not.
We teach business students to care about accounting, profit maximizing, and long term strategic thinking. Why not teach them about social accounting, employment maximizing, and the long term impact of consumers having enough money to support our future businesses? As someone who teaches in a business school I can attest that this is sort of thing that drives an increasing number of them. And of course social objectives and missions juts like this are increasingly central to building successful companies and brands. Why not leverage these trends to help generate much-needed jobs.
Follow the debate here.
>