Supercharge the Export Potential of Our Major Cities
The government should set a strong national platform for exports, starting with the ratification of free trade agreements with Korea, Panama and Colombia.
What's the single best idea to jumpstart job creation today?

With domestic demand crippled, the U.S. needs to reorient our economy to take advantage of rising global demand. Together, Brazil, India and China (the BICs) accounted for about a fifth of the global GDP in 2009, surpassing the United States for the first time. By 2016, the BIC share will grow to more than 27 percent.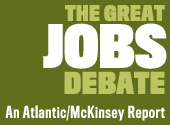 U.S. goods and services can meet the demand coming from these and other rising economies. But we have work to do to restructure our economy. In 2010, exports made up only 13 percent of the GDP of the U.S., compared to 46 percent in Germany, 30 percent in China and Canada, and higher levels in India, the UK, and the EU.
As Brookings' Export Nation report showed last year, cities and metropolitan areas will lead the internationalization of the U.S. economy.
Our nation's top 100 metros -- home to two-thirds of our population and producing three-quarters of our GDP -- dominate our trade in goods and services. Given their edge in sectors like chemicals, computers and consulting, they are also on the front lines of commerce with China, Brazil and India.
The nation's four largest exporting metros, New York, Los Angeles, Chicago and Houston, are supersized performers, exporting more than $50 billion apiece in 2008. Other major metros (Dallas, San Francisco, Detroit) are also global players, exporting more than $26 billion apiece that year. In ten smaller and medium sized metros (Wichita, Portland, and Youngstown), exports contribute more than 15 percent of gross metropolitan product.
Jobs and exports go hand in hand. The Export Nation report found that 5,800 jobs are associated with every $1 billion in exports for the average metro.
To grow exports, the Obama administration has expanded state export promotion programs, empowered the Export-Import Bank, and boosted credit and technical assistance for globally-minded small businesses.
But more must be done to ensure those resources reach businesses in metro areas and effectively connect them to global customers.
The federal government should set a strong national platform for exports, starting with the immediate ratification of free trade agreements with Korea, Panama and Colombia.
Metropolitan areas, for their part, should radically shift their economic development strategies towards exports, building on their distinctive advantages in the global economy. Practical steps could include business-to-business mentoring on how to operate in foreign markets, one-stop centers that rationalize the dizzying array of finance, legal, and promotion resources for firms, focused exchanges with direct trading partners in rising nations (Bangalore and Silicon Valley being the new iconic example), customized skills training to boost the supply of manufacturing workers and targeted infrastructure investments to ease the movement of freight and foreign business travel.
America's metros still make the goods and provide the services the rest of the world wants. To date, they have rarely leveraged this potential, instead subsidizing unnecessary business relocations and stadia building. Growing metropolitan exports is a way to create jobs in the near term and retool our economy for the long haul.
Follow the debate here.
><