Stop Trying to Create Jobs, Washington!
What is the single most important step the government should take to create more jobs? Easy--it should stop trying. Just stop trying.
Stop trying to control the free market.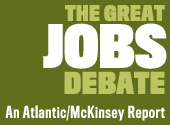 Stop trying to fix everything anyone complains about.
Stop thinking smart people who work for the government can wisely run the world, if only they usurp a little more power and a little more individual liberty.
Stop "Obamacare."
Stop all subsidies.
Stop the Education Monopoly.
Stop spending so much. Stop taxing productivity. Stop borrowing entirely.
Stop demonizing profit (which is the way we measure the creation of new resources).
Stop debasing the currency.
Stop expanding the government past its constitutional limits.
There is nothing the government can do to create more jobs. What it can do is get out of the way and let the free market grow.
Follow the debate here.