What's the single best idea to jumpstart job creation?
To create more jobs in this country, we must confront how we think and feel about people who are unemployed. There is no shortage of ideas for creating jobs; what we lack is the will, and this lack is rooted in our investment in the notion that a person's ability to find work is a manifestation of their character. Our belief in the ethical legitimacy of our own society relies on our denial of a simple mathematical reality: we have more people living in the United States than we have jobs that pay a livable wage.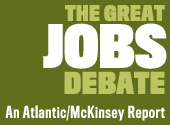 Unemployment is like the traffic accident or bomb blast we hear about on the morning news. We hear it but it doesn't register empathically. As long as the sufferer is far away, or at least no one we know, we don't imagine our bodies, or lives, in the wreckage. The occasional flash of detail might grab us for a moment, but the suffering of a stranger remains, in our imagination, categorically different from our own. The suffering stranger never has the same substance or the same value that we do.
In the case of unemployment, our emotional remoteness does not just reflect a failure of empathy. We are, as a culture, deeply invested in not identifying with people who cannot find a job. The reality of that experience would be too terrifying to bear, but even more: imagine the collective moral crisis that would ensue if we had to really confront the fact that we are doing nothing to intervene, that we are allowing people to languish indefinitely in this situation.