Separated at Birth? Obama's Watchdog Pick Cordray and Kenneth from '30 Rock'
Commentators have been speculating on Monday for President Obama's rationale for choosing someone other than his special advisor Elizabeth Warren to be the Financial Protection Bureau's chief. Instead, he nominated former Ohio Attorney General Richard Cordray. Was he worried that Warren didn't stand a change against Republicans? Does Warren have Senate aspirations and actually does not want the job? Here's another theory: perhaps Cordray reminded Obama of his favorite character from NBC's 30 Rock, Kenneth Parcell.
Below you can see the uncanny resemblance between Cordray and the sitcom character, played by Jack McBrayer (Cordray on the left, McBrayer on the right):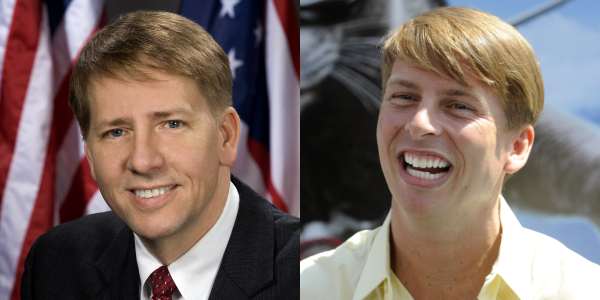 Both have wispy dirty-blond bangs and boyish dimples. Although Kenneth is said to hail from Georgia (and McBrayer actually does), he and Cordray share that distinctive middle-America look.
So perhaps the president hopes that the life-long Grove City, Ohio resident will be able to use a similar quirky, small town charm like Kenneth exhibits on 30 Rock to woo Republicans. They have said that they will oppose any nominee without significant reforms to the Bureau. Considering that Cordray is known for aggressively taking on the banks for botching foreclosures, that's not particularly likely. His tenacious demeanor is a far cry from the simple, mild-mannered NBC page played by McBrayer on the popular NBC comedy.
Image Credits: Cordray - Wikimedia Commons; McBrayer - REUTERS/Phil McCarten