What's the single best idea to jumpstart job creation?
Look at the tar roofs covering millions of American buildings. They absorb huge amounts of heat when it's hot. And they require more air conditioning to cool the rooms. Mayor Bloomberg started a program to hire and train young people to paint New York's roofs white. A big percentage of the kids have been able to parlay this simple work into higher-skilled training programs or energy-related retrofit jobs. (And, believe it or not, painting the roof white can lower the electricity use by 20 percent on a hot day!)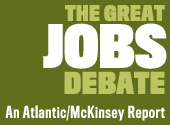 Every black roof in New York should be white; every roof in Chicago should be white; every roof in Little Rock should be white. Every flat tar-surface roof anywhere! In most of these places you could recover the cost of the paint and the labor in a week. It's the quickest, cheapest thing you can do. In the current environment it's been difficult for the mayors to get what is otherwise a piddling amount of money to do it everywhere. Yet lowering the utility bill in every apartment house 10 to 20 percent frees cash that can be spent to increase economic growth.
Follow the debate here. A version of this article appeared in Newsweek's cover story "It's Still the Economy, Stupid." It has been adapted with the permission of the magazine and the former president.