Overhaul Career and Technical Education
Economist Prakash Loungani of the International Monetary Fund has estimated that 25 percent of the unemployed are out of work today due to skill-job mismatches. Georgetown's Harry Holzer has calculated that today's unemployment rate of 9.1 percent would be nearer to 8 percent if a majority of these jobs were filled. When it's difficult and costly for employers to find skilled workers, either employers don't hire or they concentrate their growth overseas.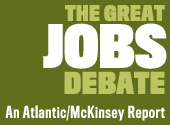 The training and skills discussion is less about professionals with four-year degrees, who remain employed at a pretty hefty rate, and more about those who need top-shelf career and technical education. It's easy to forget that 68% of the labor force has less than a four-year degree, including 47% of those in professional occupations and 32% of those in management roles.
Fact is, America's community colleges, job training, and workforce development are a mess. Community colleges suck up nearly $36 billion* in taxpayer subsidies to provide training of uncertain quality, retain a balky and inconvenient academic calendar, and frequently do a lousy job of linking their instruction to local workforce needs. Moreover, they've been slow to meet new needs, instead insisting that they first require new state subsidies.
Consequently, most growth in career and technical education in the past decade has been driven by for-profit providers, including operators that rake in federally-subsidized loans while delivering training of dubious quality. The result has been the Obama administration's heavy-handed effort to regulate for-profit education through "gainful employment" regulations that measure loans taken and earnings of graduates.
Given these concerns, it can be hard for workers seeking retraining to find convenient, cost-effective, high-quality options. And, in an economy marked by high mobility and tight margins, employers may be willing to offer job-specific training but are reluctant to pour big investments into basic or comprehensive training.
Absent high-quality retraining, it's easy for workers in dying industries to get stuck, for their skills to atrophy, and for their networks and work habits to erode. All of this shrinks the supply of skilled workers, discouraging employers and leading many big firms to look overseas.
Now, I'm skeptical of claims that this is something Washington knows how to fix. I think experience raises substantial doubts on that score. Rather, I think it's a crucial lift for states, higher education, philanthropy, and the business community. For those parties it's an especially timely challenge, and one that could make an enormous difference when it comes to job-creation.
---
*National Center for Education Statistics. This number was calculated by totaling the operating and non-operating revenues received by two-year public degree-granting institutions from the federal, state, and local sources. See http://nces.ed.gov/programs/digest/d10/tables/dt10_362.asp?referrer=list/