On the Energy Front: California Does While D.C. Fiddles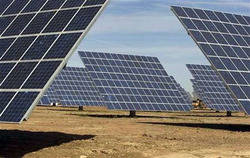 Twice at the helm California Governor Edmund G. "Jerry" Brown has called for Californians to get 12,000 MW of their energy from local power distribution grids by 2020.
This is a tough target -- and whether its a significant bump up in deployment of solar, wind, and other locally deployable resources -- there are going to be hurdles hitting this target, but clearly the effort is to push communities to pick up their own energy needs by their own bootstraps.
Practically every county in California has a different 'normal' in the permitting and regulatory process for local energy deployment.  Financing for larger scale solar and wind projects is getting easier -- but still not equal to other energy projects.  And costs overall still are higher than other traditional coal and other fossil fuel driven energy plants.

This morning at a meeting at UCLA sponsored by UCLA Luskin Center for Innovation, the California Governor's Office, and Bank of America, I'm going to talk with Governor Brown about these targets and engage him in a panel discussion with NRG Energy CEO David Crane; SolarCity CEO Lyndon Rive and Google's Director of Green Business Operations and Strategy Rick Needham.
The event will start at 12:00 pm EST and 9:00 am PST and will stream live at this link for those interested.  We will be live for about 90 minutes.
For those of you in the renewable energy arena, it would be interesting to further understand the up and downsides to an order of magnitude leap in renewable deployments.  Beyond the fad of renewables, what are the hard core constraints in this business.