Invest in American Brainpower
What's the single best idea to jumpstart job creation?The single most important step the United States can take to create jobs is to do what we've always done in times of necessity: invest in ourselves.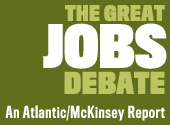 At the close of World War II, President Franklin Delano Roosevelt was confronted with the challenge of what to do with millions of veterans returning home from the battlefield. The response was the creation of the GI Bill which offered vast new educational opportunities to veterans. Not only did it fuel post-war economic growth by helping to create a strong middle class in America, the legislation forever altered the nation's attitude toward higher education, taking it from the domain of the wealthy and making it available to the masses. Researchers have concluded that the GI Bill also made possible the education of fourteen future Nobel laureates, two dozen Pulitzer Prize winners, three Supreme Court justices and three presidents of the United States.
Throughout our history, Americans have proven capable of doing everything from mass producing the automobile to reaching the moon with the proper education and training. In San Antonio today, the unemployment rate is nearly 1.5 points below the national rate. We can thank our diverse economy and steady housing prices. But, perhaps more importantly, we can attribute it to our demographic profile, which is increasingly young and entrepreneurial.
Brainpower is another powerful indicator. There are more than 100,000 students currently enrolled in college or graduate school in San Antonio, a number that exceeds most major American cities. That growing well of brainpower is what makes San Antonio stand out in the continuing economic downturn, and what can return America to a path of job growth and economic prosperity. In my city, we are investing dollars and elbow grease into third-grade reading, mentoring to curb high-school dropouts and emphasizing college preparedness.
In order to attract the jobs of the 21st century, we know that we must have a workforce with 21st century skills. Today, many high-tech American companies rely upon talented and educated immigrants to fill jobs in the digital economy. While I fully support efforts to expand that flow of talent, I also look forward to the day when every one of those jobs can be filled by Americans of all shades and backgrounds because they are the best educated in the world. Like President Roosevelt did more than a half century ago, we must recognize that brainpower is the prescription for jobs and prosperity in the 21st century global economy.
Follow the debate here.