Increase the Money in Circulation
What's the single best idea to jumpstart job creation?

To understand the current employment crisis, you only need to know one thing: America's economy is operating below capacity. There's a $750 billion gap between what America is able to produce and what it's actually making. That gap explains the bulk of the employment problem, and the blame for that gap falls, more than anywhere else, on the Federal Reserve. The single most effective thing that could be done to create jobs would be for the Fed to return total spending in the economy to its pre-recession trend level.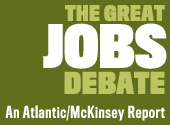 How can it do that? Quite easily, actually. To increase spending, the Fed needs only to increase the money in circulation. It can do this by creating dollars and using them to buy things: Treasury bonds, as it did on a modest scale with its quantitative easing (QE) programs, or other securities. As money in circulation rises, so too will the value of spending.
Won't creating money like that spark inflation? In normal times, it would. But with lots of spare capacity in the economy, any price increase encourages firms to bring new production online -- and hire new workers. Not until the economy bumps up against its structural limitations will price increases accelerate. At that point, there's nothing more the Fed can do, and it must act to bring inflation under control. But at that point, many millions more Americans will be working.
What's the downside? The Fed could overshoot a bit, allowing inflation to temporarily rise above levels it would prefer. But even that has its benefits; some prominent economists argue a temporary bout of inflation would help households pay down debts. There's a remote chance of a loss of faith in the dollar. But alternative reserve currencies are scarce, and a stronger economy would attract investment, supporting the dollar.
In fact, this monetary strategy has a long list of backers, from Milton Friedman to Paul Krugman. Ben Bernanke also embraced it when telling the Japanese how to escape their Lost Decade. So why isn't the Fed acting? Central banks are conservative and reluctant to make big policy changes. And the Fed faced fierce criticism for its QE2 purchases, which would grow if the Fed were more aggressive. The Japanese understood what to do and struggled to do it. Bernanke can surely empathize. Unfortunately, the cost of his timidity is sustained, high unemployment.
Follow the debate here.

>