Ideas to Kickstart New Firms and New Jobs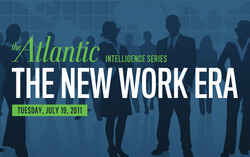 Later today in Washington, the
Ewing Marion Kauffman Foundation
will release a proposal and report titled "The Startup Act."  It's not legislation but rather a package of proposals designed to facilitate growth of young firms, which interestingly, are responsible for "all" new net jobs created in our economy in recent years.
The website for more info on the Startup Act will hopefully be up later today but is not at the time of this writing.
While I don't believe that the stagnation in the American economy can be quickly overturned by only kickstarting and supporting the work of entrepreneurs, getting innovative, young firms launched -- which have traditionally been the hotbed of innovation in the country -- is better than bailing out mature firms, or doing nothing, which seems to be the state of play in Washington.
Among the proposals that the Robert Litan-crafted Startup Act includes are entrepreneurs' visas, green cards for STEM (Science, Technology, Engineering, Mathematics) degree diplomas, zero capital gains on five year long investments in startups, licensing freedoms for academic innovators who are inhibited by university-controls on licensing, ten year sunsets on all major regulations and rules, cost-benefit tests for regulations, and more.
Some of these ideas have been kicking around for a bit -- like the Startup Visa Act for Entrepreneurs sponsored by Senators John Kerry (D-MA), Richard Lugar (R-IN), and Mark Udall (D-CO).
I've always thought that it was self-undermining for the US to maintain incentives for low-skilled immigration and significant barriers to high-skilled immigration, basically telling the world:  "Give us your brawn and not your brains."   Michael Lind and I wrote about this in a New York Times piece a few years ago titled "How to Lose the Brain Race".
There is a lot of merit to what Litan has put together, and the nation would be better served right now debating what is not healthy about its innovation and startup culture at the moment rather than the debt ceiling negotiations.
Also on the jobs and innovation front, McKinsey & Company has recently issued a pretty grim jobs report suggesting that the US economy needs to generate 21 million jobs by 2020 to re-achieve full employment.  But the pathway there is in great dispute.
I'll be chairing a discussion this morning titled "The New Work Era" at the Newseum organized by The Atlantic with knowledge underwriting from McKinsey & Co.  The session can be watched live starting at 10:45 am at The Atlantic LIVE site -- running through til approximately 2:30 pm.
Among those participating are The Honorable Arne Duncan, Secretary of Education, United States Department of Education; Jeff Joerres, Chairman, Chief Executive Officer, and President, Manpower Inc.; Frits van Paasschen, Chief Executive Officer and President, Starwood Hotels & Resorts Worldwide Inc.; John Sexton, President, New York University; The Honorable Mark Warner, Senator, United States Senate; Lenny Mendonca, Director, Firm Knowledge, McKinsey & Co.; Steve Case, Chairman & CEO, Revolution and Co-Founder, America Online; among others.
We'll see if we can add any ideas to the mix of what the Kauffman Foundation will  constructively offer today on the Startup Act.