What's the single best idea to jumpstart job creation?
Ask any political candidate what the US can do today to create more jobs, and he or she will likely suggest solutions such as implement a job-creation tax credit, create an infrastructure bank, or fully fund the AmeriCorps program. Sure, these fixes will lead to job creation in the medium term, but what can our country do to ensure jobs are available now?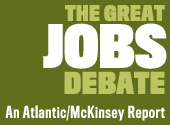 Let's take a step back. There's no argument that unemployment is a major problem in the United States today. According to the Bureau of Labor Statistics, nearly 14 million people are unemployed; this amounts to just over 9 percent of the entire US population1. Any job hunter will tell you about the frustration they face in searching for a position that matches their skills and provides an income, as well as benefits, job security, and room for growth. Listen a bit closer, however, and you will also hear frustration from hiring managers at top American companies about the lack of talent they are finding in the candidate pool: there are 3 million job vacancies in the United States today; filling them today would decrease unemployment by a few percentage points! Clearly, we have a problem in the labor exchange market that needs to be fixed, and fixed now.
What we could do immediately is offer $10,000 to any employer with one of those three million vacancies. The money could then be used to pay the wages of an unemployed person for three months, giving time to train that person in a skill the employer needs. At the end of three months, the employer could choose whether or not they want to hire the individual. Call it a "try before you buy" model, or a risk-free hiring process.