What's the single best idea to jumpstart job creation?
While nearly 30 million Americans continue to look for full-time work, life has never been better for America's wealthy.
While a janitor in Minneapolis breaks the news to her daughter that mommy lost her job, Verizon sits flush with $24 billion in profits over the past two years and hasn't had to pay a dime in taxes.
While one out of every four American children go to bed hungry each night, former Massey Energy CEO Don Blankenship can sleep well dreaming about his $86 million in pay and $4 million of bonus Bush-era tax cuts.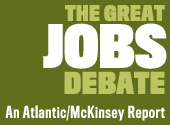 America is not broke. Some of us have just forgotten our childhood lessons about sharing and fairness. And this growing divide between millionaires and CEOs and the rest of us is simply un-American. We can put Americans back to work. But only if our government and the private sector find common ground in getting everyone--CEOs and millionaires included--to pay their fair share in our democracy and invest in the good jobs we need. With America facing such a great crisis, we can no longer afford to pay corporations to offshore American jobs. Simply ending this tax break alone would save taxpayers as much as $40 billion a year, discourage corporations from moving jobs to China, and create up to 300,000 American jobs a year.