Geithner Reportedly Toys With Stepping Down, So Now What?
What should his next move be, and how should Obama approach selecting a new Treasury Secretary?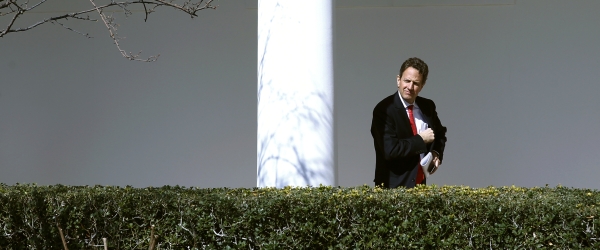 The debt ceiling fiasco may be the final battle that Treasury Secretary Timothy Geithner fights. Reports indicate that he's mulling stepping down once the latest problem the Obama administration faces has been dealt with. His family is moving back to New York, so he'll soon have a pretty brutal commute. His potential departure raises a number of questions for both Geithner and the president.
Just to be clear, Geithner has not stated that he is stepping down. In fact, he's stated that he intends to stay on the job for the "foreseeable future." Of course, he really can't really say he's leaving right now. If Republicans know they're dealing with a sort of lame duck Treasury Secretary, then they'll feel even less compelled to strike a deal favorable to the administration. Since Geithner can't weaken Obama's economic team at a time like this, he shouldn't admit that his departure is imminent even if it is.
What's Geithner's Next Move?
Once Geithner does step down, he'll have to make one central choice: does he finally spend some time in the private sector, or does he remain a public servant? Virtually his entire career has been spent working government or regulatory jobs. He has said that he loves public service, but financial firms will almost certainly be clamoring to bring him on board.
Are there really any public sector jobs much more exciting than being the Treasury Secretary? Other than chairman of the Federal Reserve, there's no near-equal in the U.S. And since current Fed Chair Ben Bernanke has a couple years left in his term, Geithner would likely have to look to global regulators to find something at his level.
Then, there's the midpoint between the public and private sectors: academia. He could easily slide into a teaching job if he wants to go that route. If no desirable high-level regulator job is open at the moment, a university could make for a nice, relaxing transition when in-between high-stress gigs.
But if Geithner wants to make money -- a lot of money -- then he should have ample opportunity to do so. It's hard to imagine that there's a big bank out there that wouldn't be psyched to provide a seven- or eight-figure salary for his knowledge and connections.
Really, Geithner should just get a job at Goldman Sachs. After all, everyone already thinks he's worked there, so he might as well actually do so and make the big bucks that the public has crucified him for having earned as a Goldman employee. It's sort of like the Ashley Judd movie Double Jeopardy. She already did the jail time for murdering her dirtbag husband, so she didn't feel so bad about actually killing him at the end.
Obama's Strategy in Choosing a New Treasury Secretary
If Geithner does leave, how should President Obama choose a replacement? Let's think about the situation here. It will be the fall of 2011, about a year before November 2012. It will be an election year, which means that neither Congress nor the president will plan to get all that much accomplished.
And once the debt ceiling issue has been resolved, there aren't any huge policy issues left for an Obama administration Treasury Secretary to worry about. A new deficit deal will presumably be in place, the administration's financial regulation effort will have taken effect, its mortgage modification program will be well-established, its housing finance policy proposal is already out there, and the prospect of additional stimulus getting through a divided Congress will be quite dim. The president's economic policy team will pretty much be in cruise control until the election.
For both of these reasons, the president's next pick doesn't much matter. If Obama wins in 2012, he could just appoint a new Treasury Secretary for his second term. So he can use the opportunity to appoint an interim pick for pure political gain. He just needs to decide what he wants to get out of it -- who does he want to appease?
If he wants a pick that would thrill his liberal base, then he could select a nominee very far to the left. Someone like Paul Krugman comes to mind. Although such a candidate won't likely get past the Senate, the Republicans might not allow any nominee to be confirmed anyway. So Obama wouldn't have to worry about any very controversial policies potentially pushed by an extremely progressive pick anyway.

But if he wants to please business and Wall Street, then he could turn to the private sector. JP Morgan CEO Jaime Dimon has been one name suggested. He was an early Obama ally, but over the past few years he has distanced himself from the administration and Democrats in general, in part due to the aggressive new regulation bill they passed last year. Besides, it's not even clear that he'd be interested in the job: running one of the world's biggest banks isn't a bad gig. If not Dimon, a different left-leaning business leader could get the private sector's nod.
So it'll be interesting to see how this situation evolves. For the reasons explained, it will likely end up being more of political story than economic story. Once the debt ceiling has been raised, the Obama administration will begin to shift into reelection mode.
Image Credit: REUTERS/Kevin Lamarque