GDP Report Shatters Illusion of Jobless, Productivity-Packed Recovery
It's hard to overstate how much today's GDP report blew up our understanding of the recovery. The recession was deeper than we knew, and the economy is weaker than we thought. We weren't making new jobs, because we weren't making new things, period. The economy grew less than 1% in the first half of 2011.
Yesterday, analysts thought the economy was expanding by 2.5% a year. This morning, they learned GDP grew by only 1.6% in the last four quarters. This is a remarkable discovery. It's the difference between thinking we're expanding at a decent, if disappointing, pace, and knowing we're growing around half our historical norm.
Analysts also thought, as recently as twelve hours ago, that the economy declined 6.8% and 4.9% in the quarters bisected by Obama's inauguration. It turns out the actual declines were much steeper: 8.9% and 6.7%.
To adopt the president's favorite metaphor of the ditch and the driver: The ditch was a 33% deeper than we thought. And we're driving 33% slower than we hoped. Take a look at these graphs, via Economist, to soak it in: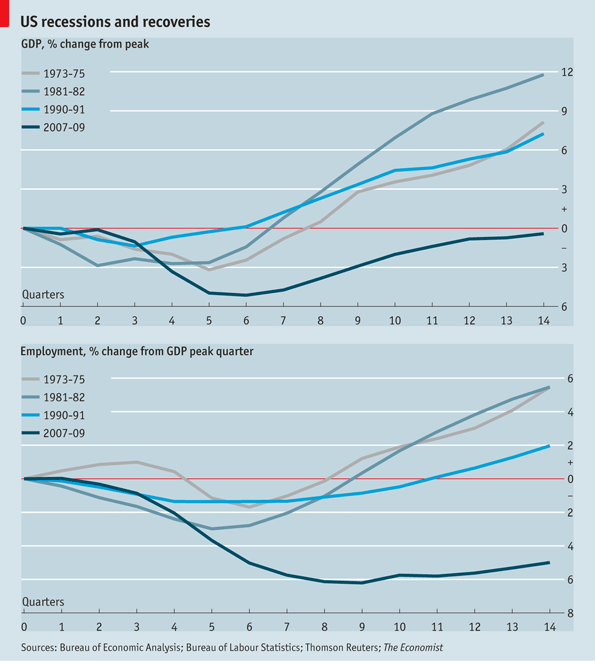 And what about productivity? The silver lining of the recession had been that, with output climbing and employment flat, American workers were extending their lead over the rest of the world by supercharging productivity gains, which could pay off during the recovery. But now that the output numbers have been corrected, we have to change the story. Michael Mandel, an Atlantic columnist, writes on his personal blog:

Until this morning, the official data showed that the U.S. productivity growth accelerated during the financial crisis. Nonfarm business productivity growth supposedly went from a 1.2% annual rate in 2005-2007, to a 2.3% annual rate in 2007-2009. Many commentators suggested that this productivity gain, in the face of great disruptions, showed the flexibility of the U.S. economy.

Uh, oh. The latest revision of the national income accounts, released this morning, makes the whole productivity acceleration vanish. Nonfarm business productivity growth in the 2007-09 period has now been cut almost in half, down to only 1.4% per year.