Cut Corporate Taxes by a Third
What's the single best idea to jumpstart job creation?
The single most important thing the U.S. can do to jumpstart job creation is to reduce the corporate tax rate to 23 percent, a 12-percentage-point reduction from the current 35 percent rate.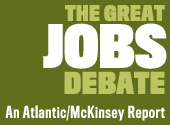 My recommendation is based on recognizing that our jobs challenge is structural in nature. We must devote our efforts to devising long-term, non-cyclical fixes. Globalization has forever changed the international competitive landscape. Cross-border transactions, from trade to foreign direct investment and portfolio investment, are now the norm. Given these developments, the United States must re-evaluate its policies relative to other nations on a regular basis. We are well behind the curve.
Reducing the corporate tax rate would improve the competitiveness of firms that operate here and reduce biases against investing and operating in the United States.
International differences in corporate income tax rates are a factor when firms decide where to locate their corporate headquarters, R&D activities, production facilities and distribution networks. Today, the U.S. corporate income tax rate is second-highest among OECD nations.
The Milken Institute has analyzed such a change in corporate tax policy, based on phasing in cuts over a five-year period to arrive at 23 percent, the current OECD average. Our modeling results show that this move would trigger economic growth. A lower corporate tax rate makes the United States more attractive for business investment by reducing the user cost of capital. After a rate cut is implemented, existing productive capacity in the U.S. would at first be utilized to fulfill domestic final demand and boost exports. The impacts on annual economic growth in the first year of enactment would not be as large as in subsequent years, because it would take time for businesses to adjust their investment and production plans. This structural change would, however, create sustainable improvement of the sort that calms investors and allows employers to make longer-term plans.
Within five years, the corporate tax reduction would boost real GDP by $281.6 billion (1.8 percent), create an additional 260,000 jobs (2.0 percent of these would be in manufacturing) and increase total employment by 1.83 million (1.3 percent.)
Follow the debate here.
>