Chart: This Is the Relationship Between Penile Length and Economic Growth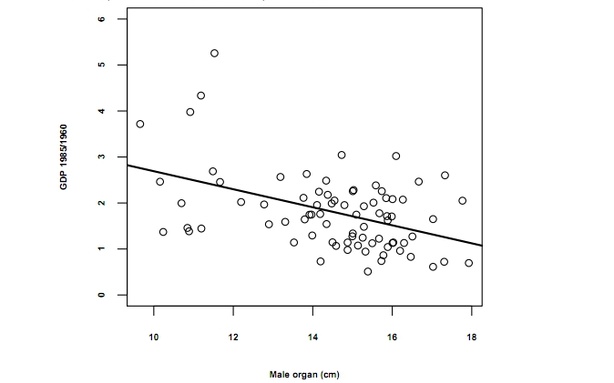 "A surprising strong correlation."

As the chart above shows, countries that averaged smaller penis sizes grew at a faster rate than their larger counterparts between 1960 and 1985. Every centimeter increase in penis size accounted for a 5 to 7 percent reduction in economic growth. The study also showed that overall GDP was at its highest in countries with average-sized penises with GDP falling at the extremes of penis length.

Penis size and economic growth might be related through some intermediary variable like gender equality, political stability, or population growth, Westling writes, but he seems to prefer an admittedly more Freudian explanation that goes like this: Penile length and income are both factors that contribute to an individual's level of self-esteem, and if a person has more of the former, he'll need less of the latter. Or, to put it in layman's terms, some fast-growing countries may be compensating for something.

Read the full story at The Atlantic Wire.