Chart of the Day: Sparse Alternatives to Treasuries
So let's say that U.S. debt is downgraded and/or the U.S. defaults. Presumably, under either scenario investors wouldn't be amused. Some would dump Treasuries by choice while others would do so by necessity, due to fund requirements. If millions, billions, or trillions of dollars flee Treasuries, where do they go? Unfortunately, there aren't enough good alternatives.
Here's a chart from a note released on Wednesday by rating agency Fitch that demonstrates the problem: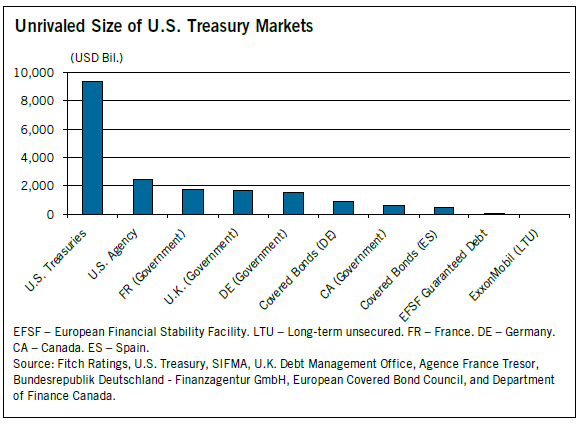 First, bear in mind that U.S. agency debt these days is equivalent to Treasuries in every way that matters. The U.S. government indirectly pays those bonds and explicitly guarantees them. If Treasuries are downgraded or defaulted on, agencies would probably face a similar fate. So we should add another $2 billion+ to the bar for Treasures to extend it to around $11.5 trillion. Now if you add up all of sovereign debt from France, the U.K., Germany and Canada, along with the covered bonds from Germany and Spain, you only get $7.4 trillion. AAA-rated corporate bonds are a much, much smaller market than AAA-rated sovereign debt, so their impact is virtually negligible.
As a result, if Treasury investors want to dump U.S. debt and buy other AAA-rated debt instead, they may have some trouble finding enough supply. They'd likely have to settle for something like gold (or other commodities), cash, or cash equivalents. Our friends at 24/7 Wall ST have compiled an expanded list of possible investment alternatives for those exiting the Treasury market, which we ran earlier today.
If investors do dump U.S. debt, we'll see Treasury prices drop and the prices of substitute assets rise. But as the chart above shows, investors could face a potential shortage of such substitutes. The supply available of other AAA-rated bonds is just much, much too small to satisfy a large number of big investors looking to leave Treasuries behind. So the increase in prices of those substitutes could become prohibitive to some investors if demand is high enough.
As a result, some might be stuck with their Treasury positions, which could limit U.S. debt's downside. Fitch also says in the note that Treasuries will continue to remain the global benchmark for AAA-rated debt once Washington gets its act together. I've read similar analysis from European investors. When the U.S. does get back on path, Treasury prices will rise, though probably not to as high a level as they were prior to downgrade or default.
(h/t: Alphaville)