Books, Borders and Beyond: How Digital Tech Is Changing Retail
The demise of Borders made us wonder: If book and music stores were the first logical casualty of the digital revolution in retail, what's next?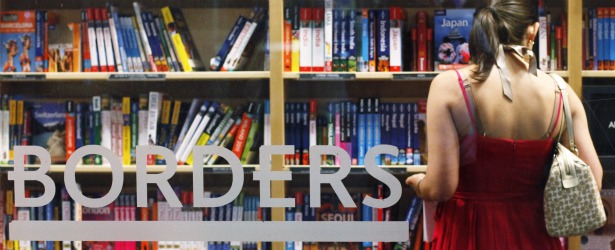 REUTERS
In 1971, on the 200 block of South State Street in Ann Arbor, Michigan, two brothers, Tom and Louis Borders, opened a small bookstore. They called it
Borders Book Shop
. Within ten years, they had built an inventory software system that was the envy of the industry. Within 25 years, Borders Group Inc., had gone public on the New York Stock Exchange. Within 30 years, they had opened dozens of stores across the world, from
London to Singapore
.
And now, 40 years after Borders Book Shop opened, Borders Inc. is closing, undone by a perfect storm of book digitization, the growth of Amazon, and an inability to turn a brick-and-mortar company into a zeros-and-ones business. The book chain announced this week it is liquidating 400 stores and laying off 11,000 employees.
The sharp rise and swift fall of Borders is a sad, but predictable, conclusion of a paper store in a digital age. Of course books and music are the first stores to fall in the digital age. Which store is next?
It's premature to think about the end of retail at a time when Walmart leads the Fortune 500 with $420 billion in revenue and employs enough people to fill Wyoming three times over. What's more, it's wrong to talk about technology as a general menace for retailers. Inventory technology and off-shoring helps large companies control costs. Online coupons accessible by phone give small vendors a way to clear merchandise in slow hours. Smartphones as credit cards make it easier for consumers to swipe-and-go and could even give merchants information to target with advertising. In more ways than I can count in this paragraph, technology is more of a giver than a taker for most retail companies and a variety of merchants.
But if there's one thing the Internet takes away from stores, it's foot traffic. The Web is a shopping mall. So who needs the shopping mall? It's more convenient for buyers -- and cheaper for merchants -- to play with a virtual storefront and bypass the high fixed costs of real estate.


"All retailing is vulnerable," says Joel Kurtzman, senior fellow at the Milken Institute and former editor-in-chief of the Harvard Business Review. "I've spoken with executives at many major big box retailers, and they're all very worried about how the digital world is changing their business."
Borders' crisis was more immediate because its products -- books, and later music -- could be turned into sharable and downloadable files. Foot traffic had to fall somewhere first, and stores selling digitizable information were first. But the age of mobile internet and smart phones will have a big impact even on stores that sell furniture, clothes, and other utterly non-digitizable products.
"It's very common for people to shop in pairs with one person at home," Kurtzman says. "One person goes to Home Depot with his iPhone, takes a picture of a product, sends in home, and his wife spouse takes a look at the picture, says, 'Got it,' and then buys the product cheaper online. People are using big retail stores as showrooms."

Some companies are treating stores as showrooms. An Apple outlet, with its white and chrome silver interior, gives off the impression. But other stores sitting on tens of thousands of square feet of real estate with dozens of attendants and clerks stocking inventory and charging orders aren't prepared for a future where stores are primarily marketing centers rather than points-of-sale.
Mall vacancy rates are the highest they've been in a decade. Even with retail sales inching up with every quarter, foot traffic trends suggest that as consumers come back, they're also staying home. This year, J.C. Penney announced it had poached Apple retailing guru Ron Johnson to transform its stores from the inside out. Bloomberg Businessweek envisioned a "Designer Genius Bar staffed by Paula Deen, the Olsen twins, Kimora Lee Simmons, and others with JCP-exclusive labels." Kurtzman says genius bar or no, malls could seriously use some Apple wisdom.
"Malls are empty right now and it's not simply because retail hasn't returned, it's because destination shopping is dying out," he says. "Five or ten years from now you're going to see more brand-based stores that operate as showrooms, along the lines of Apple, for individual designers show their wares."