Boehner vs. Reid: The Debt-Ceiling Plans at a Glance
The two plans with the best chance of averting a catastrophic default on U.S. debt come from Republican House Speaker John Boehner and Democratic Senate Majority Leader Harry Reid. Both plans claim more than $1 trillion in domestic cuts before 2021. Both plans leave taxes alone. Both plans got scored by the Congressional Budget Office. And both plans apparently cut less -- much less -- than they claimed.

I've graphed the year-by-year domestic cuts in the Boehner plan (red) and the Reid plan (blue), going by the CBO projected cuts relative to the adjusted March 2011 baseline. The surprising upshot is that the Democrat's plan cuts more, and it cuts more faster. That might sound like a "win" for Democrats. It's not. The fact that Democrats are proposing trillion-dollar spending cuts without tax increases is an ideological win for conservatives, no matter how the next few days play out politically.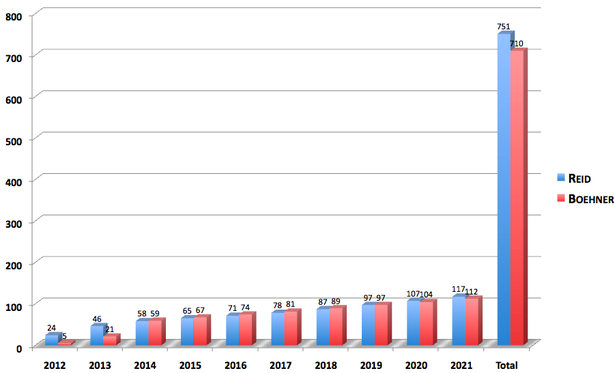 You'll notice that the Boehner cuts amount to only $25 billion before 2014, nearly a third of Reid's $70 billion in reductions over the first two years. I think that's a good thing. We shouldn't be giddy about cutting government with unemployment at 9 percent. The House doesn't agree with my enthusiasm for Boehner's austerity-lite, and they're demanding more reductions. We'll see what the next version looks like today or tomorrow.
Rosalind S. Helderman and Laura Stanton of the Washington Post have prepared another marvelously helpful infographic to compare the places of agreement and discord between the two plans. There is significant overlap. Both plans want to cut more than a trillion over the next ten years, limit war spending, and raise the debt ceiling by about one dollar for every dollar we cut.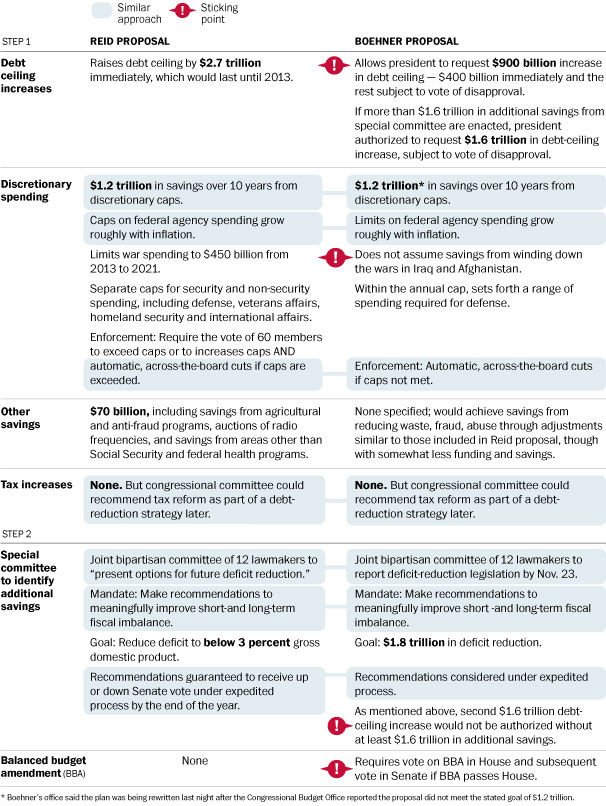 >