Aix / Le Cercle des Economistes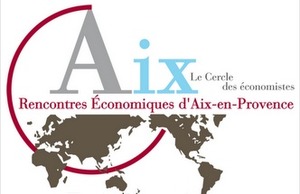 For the next couple of days, some of the world's leading thinkers will be spending time in Aix-en-Provence wrestling through "
The State of the World
" organized by Le Cercle des Economistes.
I arrived late yesterday and have missed some of the headliners including Francis Fukuyama, now of Stanford and author of the recently published The Origins of Political Order: From Pre-Human Times to the French Revolution; former French Foreign Minister Hubert Vedrine; and Russian Deputy Prime Minister Alexander Zhukov.
But I did catch a sliver of a session exploring the growing tension between political rather than economic zones and whether 'states' were back or still getting fuzzed up by various transnational saboteurs.
The most interesting moments of this panel came from my New America Foundation colleague and friend Parag Khanna as well as McKinsey & Co. Managing Director (the top one) Dominic Barton.
Khanna said that globalization is not a trend that can just be quickly turned on and off.  He thinks globalization is a much, longer deeper process stretching back a thousand years in which the Silk Road was an early part of the platform.  Khanna said we are "now entering a phase in which globalization is really global" and that it can't be slowed by the fiscal straits of a few of the larger developed countries.
Khanna also said that nation states as the term of unit in the international system was being undermined by "Four C's" -- Countries, Cities, Companies, and Communities.  He believes that these groupings will share authorities, overlap, and intensify their communication and coordination in ways that don't depend on the state for intermediation.
McKinsey's Dominic Barton, the most fun of all the speakers on the panel which included former Mexican foreign minister Jorge Castaneda and Asian Development Bank Chief Economist Changyong Rhee among others, said that the best depiction of world affairs was not a "cube" or "globe" -- but rather a "bowl of spaghetti."  (I wanted to slip him a note that while Wednesday might have been Italy in his schedule, that he was now in France. . .)
But building on Khanna's offering on the rise of cities and communities as new global building blocks, Barton said that there is more intense interaction between the world's 600 largest cities than ever before.
Barton also said that there are now 2 billion people on the internet; that China added 150 million internet users last year alone.  There are 600 million Facebook users and 190 million on Twitter.  He said that many in China believe that "Crest" (the toothpaste) is a Chinese company.
He also made an appeal to the world's bloggers and writers to focus on the important issues of our time -- and said that everything is changing.  He lampooned 800,000 bloggers out there in the world who apparently write about their shampoo -- that's right, shampoo.  He basically said that was a waste of bloggage and that these folks needed to get into discussions about what mattered.  (perhaps some of the Tea Party crowd are listening. . .)
But the most provocative thing that Dominic Barton put on the table -- really shocked me actually -- was his reflection that American multinationals are ready to chat about industrial policy.  He stated that while these firms have for decades had a strong allergy to any discussion of "industrial policy" that they now see many factors amiss when both corporate profitability and unemployment are very high.  Barton said unequivocally that leaders of these firms are now willing to entertain serious discussion about a "new American industrial policy."
If true, that is striking -- and the Obama administration should listen in on the conversation.  I know from my own discussions with leading White House economic advisers to the President, the term "industrial policy" is the policy that cannot be uttered.
I'll be speaking on the US panel this morning and whether or not America is a "tangled up Gulliver" or not along with former Chief of Staff to Vice President Biden Ron Klain, former House Member from Minnesota James Oberstar, Harvard's Jeffrey Frieden, IFRI's Jacques Mistral and others.