The best step to create jobs and boost the economy would be for the Federal Reserve's Open Market Committee to announce a plan to target inflation at 3 or 4 percent.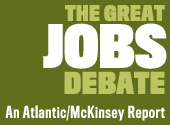 Speaking in December of 1999 about Japan, current Fed Chairman Ben Bernanke said that such a step "would confirm not only that the [Bank of Japan] is intent on moving safely away from a deflationary regime, but also that it intends to make up some of the 'price-level gap'" that had opened up during years of low growth. It was a good idea then, and it's a good idea now. When asked by Senator David Vitter why he didn't adopt a 3 percent inflation target back in December of 2009, Bernanke agreed that this should "stimulate spending and output" but said the risks to the Fed's credibility as an inflation-fighter would be too severe.
But it's hard to see why returning to Reagan-era levels of inflation would have this impact. What's more, we now know that economic recovery is proving much more problematic than it seemed 18 months ago.
Higher inflation expectations would have a number of benefits. For starters, they would reduce real interest rates, mitigating the problem of the zero lower bound on nominal rates. They would also increase the cost of hoarding cash. This would encourage wealthy individuals and cash-rich firms to purchase real goods and services, or else invest in productive assets. Last, since mortgage debt is denominated in nominal terms, a faster rate of inflation would speed the deleveraging process and let households repair their balance sheet. When he proposed the idea over a decade ago, Bernanke castigated Japanese authorities for falling into self-induced paralysis. It's tragic that he's fallen into the same trap. The best way to get things moving again is to halt the paralysis.
>