30 Million in Poverty Aren't as Poor as You Think, Says Heritage Foundation
Many of the 30 million Americans living in poverty "are not poor in any ordinary sense of the term," the Heritage Foundation claims, because they have access to air conditioning, television, and a car.
"They are well housed, have an adequate and reasonably steady supply of food, and have met their other basic needs, including medical care," authors Robert Rector and Rachel Sheffield write. The vast majority of them own refrigerators, televisions, stoves, microwaves, air conditioning and other consumer electronics not available to even the richest families a few generations ago.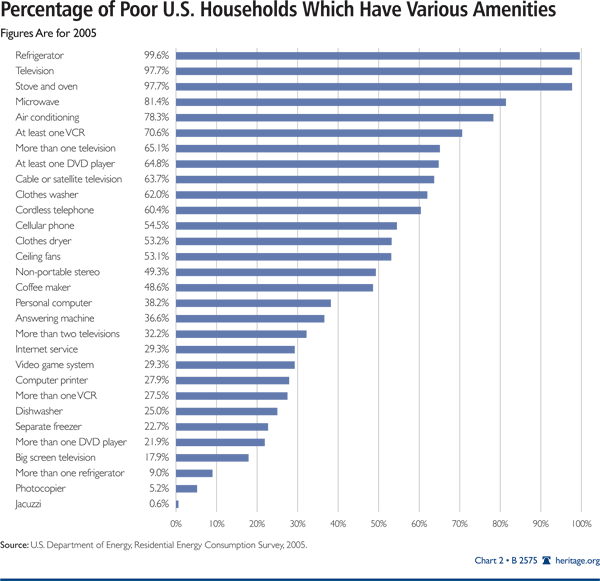 Tens of millions of Americans are uninsured and 50 million suffer from insecure access to food. But nearly all poor households own a refrigerator, television, and microwave. Surprising? Not really. It's a snapshot of one of the most important trends of the U.S. economy: the productivity paradox.
I think the answer goes back to why so many families -- not just the very poor, but the firmly middle class -- feel squeezed in these times. Productivity increases in electronics, food manufacturing, and textiles have made consumer electronics, food, and clothes extremely cheap. Watching TV, reading news, listing to music, wearing clothes, and eating meals has never been more affordable, because we've figured out ways to bring down their cost through automation, outsourcing, and new technology.
But in other important sectors -- for example, health care, education, residential construction -- we have reason to think productivity hasn't grown much at all. Sometimes, it's even gone backward. This chart from McKinsey Global Institute helps to tell the story: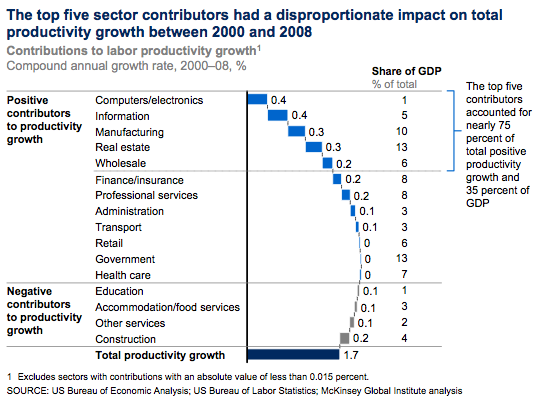 Earlier this month, I summed up the graph
this way
: "The stuff you're making is getting cheaper. The stuff you need is getting more expensive. That's why you feel so squeezed."
It's wonderful that even America's poorest have access to relatively cheap electronics that weren't available to even the world's richest a century ago. But that doesn't disqualify them from old-fashioned definitions of poverty. The necessities are still the necessities, and they're not getting cheaper. In fact, with inflation growing faster than wages today, and with health care, education, and housing costs historically growing faster than inflation, many of the things we consider necessities are becoming less affordable for America's poorest, now matter how many microwaves they have.