Will FDA's New Gruesome Warnings Reduce the Number of Smokers?
[Courtney Knapp]
Yesterday, the U.S. Food and Drug Administration unveiled nine new graphic health warnings for cigarette labels as part of the government's efforts to curb smoking. The ads will be required on the upper half of cigarette packages on both the front and back, and on at least 20 percent of all cigarette advertisements. The new labels are a result of the Family Smoking Prevention and Tobacco Control Act of 2009, which granted the FDA more power to regulate tobacco products.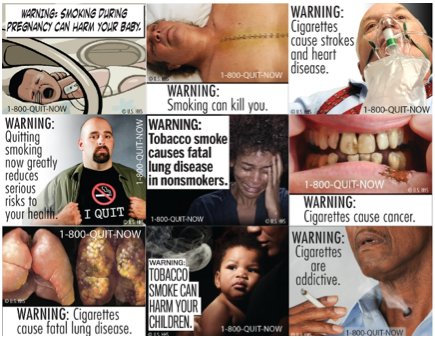 The grisly images include a stitched cadaver of a man presumably killed by a tobacco-related disease and a man blowing smoke out of a tracheotomy hole. I'm not sure you'd want to, but you can see the full size images of the warnings on the FDA's site.
Since 1970, the share of smokers has fallen from 40 percent of Americans to about 20 percent (a rate that's been relatively constant since 2004). Will the images push the rest of the smokers to quit?
Maybe. In the best-case scenario, these images will remove the "glamour" of smoking and have the intended visceral impact that will help smokers quit and convince others to never start. At least initially. It's likely the shock of the labels will wear off over time.
While gruesome and disturbing, the images are not unique: similar labels are required on cigarettes packaging and advertising in the UK, Canada and 41 other countries. It is still a little early to estimate the impact of the labels in other countries; the U.K., whose requirements are most similar to the FDA's new rules, has put graphic images on cigarettes since late 2009, other specifics are available here.
It will, of course, be difficult to measure how many smokers quit because of the addition of warning labels rather than anything else in the battery of anti-smoking efforts and regulations.
These new labels will be required on all cigarette packs, cartons and ads no later than September 2012. So in the meantime, we have time for a thought experiment. Yesterday, Cheap Talk contributor and Northwestern University economics professor Jeffrey Ely posed an excellent question to me:

Suppose you had a choice between only two policies: A) grotesque pictures or B) increased per-pack taxes calculated to generate exactly the same reduction in demand. Which do you prefer?
This is a tough question. To me, as disturbing as the photos are,
raising already regressive-taxes (
assuming that current levels of taxes with discount rate already more than offset the costs to government of people smoking)
is bad policy
. Smokers may quit or not start, but without a larger revenue stream no new vested interests would be created. On the flip side, no revenue could possibly be earmarked for an agreeable cause.
What do you think, dear readers?

Which policy would you choose? Will the images deter nonsmokers?
Smokers, are the images likely to help you quit or will you acclimate to the images after a few packs? Would you pay more for a pack without the warnings?