Why Real-Estate Prices Spike in Places Like Manhattan
People pay more for two location premiums -- first, to live by wonderful amenities, and second, to take advantage of the area's greater productivity
The map below shows the price of land in the New York metropolitan area (via Matt Yglesias) from this fascinating New York Fed study. The premium for land in central Manhattan is nothing less than extraordinary. Land prices rise and fall logarithmically according to their distance from midtown, notes to the study: "A parcel located five miles from the Empire State Building commands a price that is about twice as high as the price of a parcel ten miles away."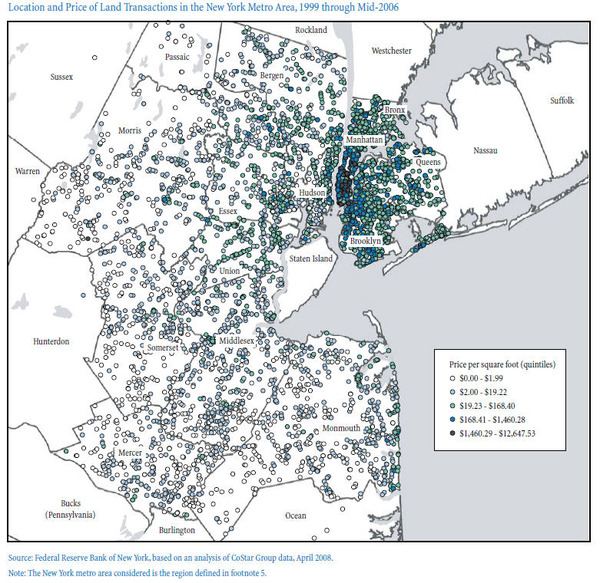 The map is "a reminder that, among other things, people living in expensive houses in Manhattan and the convenient parts of Brooklyn and Queens aren't just experiencing 'high housing costs' or a 'high cost of living,'" writes Yglesias, "they're specifically purchasing a commodity -- space with easy access to the core business districts of America's largest city -- that the market puts a very high price on."
It's a commodity that reflects two underlying price premiums. The first is an amenity premium -- the price people pay to be around great restaurants, museums, theater, and culture as Harvard's Ed Glaeser and others have shown. The second is a productivity premium, for the economic leverage that comes with such central locations.  As the University of Chicago economist Robert Lucas  famously put it: "What can people be paying Manhattan or downtown Chicago rents for, if not for being near other people?" It's this underlying productivity effect that generates higher incomes, which in turn lead to higher prices.
The end result is a geography organized around economic spikes which, like central Manhattan, show us that even in the era of far-flung globalization, location remains economically more important than ever before.