If you're feeling behind in the national debate over whether college is still "worth it," here's a quick refresher: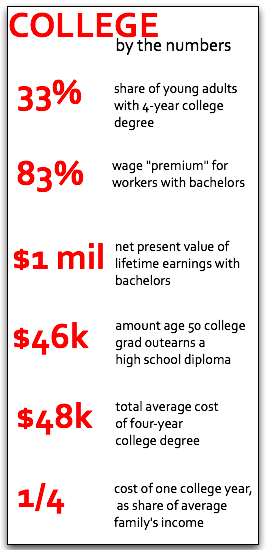 Opening arguments
FOR: The more education you have attained, the more likely you are to be employed and earn a higher salary.
AGAINST: College is too expensive, the pay-off is too risky, and the learning experience is woefully inadequate.
Rebuttals
FOR: If college is so worthless, how come 86% of grads say that college has been a good investment for them personally?
AGAINST: The college payoff has hit a wall. Graduates are seeing slowing wage gains even as the cost of college is increasing four times faster than wage growth.
***

It's an important debate, but count me in with college's proponents. The rising cost of a degree is a huge challenge that's waiting to be disrupted by a combination of Web innovation and automation. And college might not be the right investment for literally every American. (After all, half the students who matriculate in associate or bachelor's programs fail to graduate.) But the aggregate evidence is hard to dispute: College pays off.
The typical college graduate earns $570,000 more than the average person with only a high school diploma over her lifetime. That makes college the best big investment on the market, Michael Greenstone and Adam Looney find in this remarkable report on the value of a higher education.